Fire Emblem Warriors: Three Hopes - The Loop
Play Sound

Michael Burnham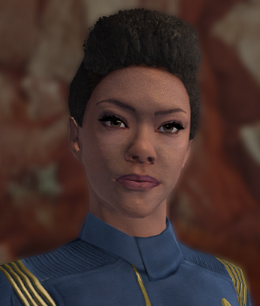 Profession(s):
Information giver

For the real Burnham, see
Michael Burnham
.
A simulacrum of Michael Burnham was created by the Excalbians in 2411 as part of their trials of good vs evil. Following the trials Burnham, aware of her artificial nature, decided to rejoin Starfleet. This version of Michael Burnham is taken from her existence shortly before the battle at the end of Season 2 of Star Trek: Discovery.
Red angel
[
]
An additional simulacrum of Burnham was created based on an alternative future where the Discovery was destroyed and she became the Red Angel in place of her mother. This simulacrum may have been destroyed depending on the choice of the player.
Missions involved
[
]
"The Measure of Morality (Part 1)": The Excalbians create a simulacrum of Michael Burnham, along with others, as part of their trials of good vs evil. She aids the player and Seven of Nine in the trials and urges the player to save Obisek and Noye. Later, during a recreation of her own past, she is confronted with a future version of herself. In that trial she urges the player to delete the sphere data rather than try to save it and her future self.
"The Measure of Morality (Part 2)": During the space battle, Burnham aids Abraham Lincoln in creating an allied fleet to assist the player. At the end, she says she knows she is a simulation but has asked the Excalbians to let her continue to exist so she can rejoin Starfleet and meet Stamet's holographic self.
External Links
[
]
---