Fire Emblem Warriors: Three Hopes - The Loop
Play Sound

Mirror Crossfield Science Destroyer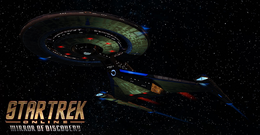 Hull:

| | |
| --- | --- |
| Lvl 50: | 37950 |
| Lvl 55: | 40975 |
| Lvl 60: | 44000 |
| Lvl 65: | 49500 |
Matter-Antimatter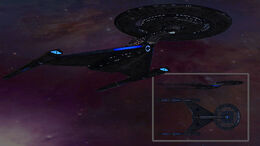 This article is about the T6
playable starship
. For other uses, see
Crossfield class
.
Crossfield-class
 ~Science Vessel Variants
Tier 6 Variants
Mirror Crossfield Science Destroyer
The Mirror Crossfield-class Science Destroyer is a Tier 6 Science Destroyer which may be flown by Starfleet characters, including Federation-aligned Romulan Republic and Dominion characters. All faction restrictions of this starship can be removed by having a level 65 KDF character or by purchasing the Cross Faction Flying unlock from the Zen Store. This starship can be used from any level upon completion of the tutorial experience. As you level up, this ship gains additional hull, weapon slots, and console slots.
Players can obtain this starship from a [Special Requisition Choice Pack - Tier 6 Promotional Ship Choice Pack], which has a ultra rare chance to drop from a [Promotional R&D Pack] or a [Promotional Duty Officer Pack]. This box is bound to you until a ship is chosen. The boxed ship is not bound and so may be traded to other players or bought and sold on the Exchange for energy credits under the name [Special Requisition Pack - Mirror Crossfield Science Destroyer [T6]].
Overview
[
]
As incidents with the alternate dimension known as the "Mirror Universe" continue, alliance engineers have gotten a firsthand look at the I.S.S. Discovery, and used this knowledge in conjunction with wreckage from other Mirror Universe Crossfield-class vessels being rebuilt and retrofitted for service. This powerful line of ships was clearly designed for the treacherous nature of life in the Terran Empire, able to switch from a scientific mission to a fully armed combat ready starship at a moment's notice.
In the Mirror Universe, it's survival of the fittest, and even Science Vessels have to be ready to fight at a moment's notice if they want to survive. The Mirror Crossfield-class Science Destroyer is retrofitted from ships that crossed over from the 23rd century into present-day space. While fitted with powerful deflectors, shielding, scanning, and other scientific tools, looks can be quite deceptive – at a moment's notice, the starship can transform, hiding the delicate scientific instrumentation and bringing astounding firepower for to bear, overwhelming anyone who came prepared for a mere science vessel.
Class variants
Class
Information

Crossfield class

SKIN UNLOCK: Any Crossfield variant

---

The Crossfield class is an experimental Starfleet vessel type in service during the 23rd century. The ship's saucer is split into three concentric sections separated by gaps and is connected by a thin neck to a triangular engineering hull. The ship features two extraordinarily long warp nacelles.

Glenn class

SKIN UNLOCK: Glenn Legendary Temporal Operative Science Vessel, 30,000

---

The Glenn Class Science Vessel represents a brand new 25th-Century design inspired by the Crossfield class.

Mirror Crossfield class
Terran Prototype

SKIN UNLOCK: Free with this starship

---

The Terran Crossfield class is largely the same as its Prime counterpart, except for the different design of its warp nacelles.

Acquiring this starship unlocks the following:

The Mirror Type 2 material
"Crossfield - Mirror" hull parts featuring Terran Empire insignia
"Open Shuttlebay" Doors Hull option, Prime and Mirror variants
"Prototype" Nacelles option, Prime and Mirror variants

Crossfield class
Refit (32c)

SKIN UNLOCK: Crossfield Science Spearhead Refit, 1

---

After time traveling to the 32nd century, U.S.S. Discovery underwent a three week refit, with all of her systems being upgraded on par with 32nd century technology and equipped with a cloaking device. Part of this refit included the installation of

Programmable matter

into all stations for better control and converting her warp engines to be detached for improved maneuverability and performance. During the refit, the ship was recommissioned with the registry

NCC-1031-A

.
Starship Mastery
[
]
Starship Mastery
SCIENCE VESSEL
Level
Name
Description
I
Enhanced Particle Generators
+15% Damage to Exotic Damage abilities.
II
Advanced Shield Systems
+10% Shield Hitpoints.
III
Enhanced Restorative Circuitry
Improves Hull healing abilities by 10%.
Improves Shield healing abilities by 10%.
IV
Reactive Shield Technology
5% Shield Regeneration every 6 seconds.
Reduces Damage to Shields by 5%.
V
Terran Machinations
Tactical and Science Crosswiring

---

When activating Attack Pattern Bridge Officer Abilities: +30% Exotic Damage for 15 sec
When activating Control Bridge Officer Abilities: 10% Firing Cycle Haste for Energy Weapons for 15 sec
Abilities
[
]
Universal consoles
[
]
The Mirror Crossfield Science Destroyer comes equipped with the [Console - Universal - Weaponized Helical Torsion].
Specialization seating
The Mirror Crossfield-class Science Destroyer features the following specialist seats:

Science and Tactical modes
A built-in Tactical Mode ability allows the Mirror Crossfield-class Science Destroyer to switch between a default Science Mode and Tactical Mode.
Activating the Tactical Mode transforms the starship from a typical Science Vessel into a combat-oriented Destroyer. This disables most of advanced science systems while activating additional tactical systems, and downgrades the Commander Science bridge officer station into a Lieutenant Commander, while the Lieutenant Commander Tactical station is upgraded to Commander. In Tactical mode, the ship's shield capacity will be reduced.
Science Mode
Tactical Mode

---

Disabled

Experimental Weapon
Standard turn rate, impulse speed and inertia

Tactical-oriented bridge officer seating:


Ensign Engineering 

Lieutenant Commander Science 

Lieutenant Commander Universal/Temporal Operative 

Lieutenant Universal/Pilot

Activated

Experimental Weapon
+2 Turn Rate
+10% Impulse Speed
+10 Inertia
More power to Weapons

+15 bonus Weapons power
+0 bonus Auxiliary power

---

Disabled

Secondary Deflector, Sensor Analysis, Subsystem Targeting
10% lower shield capacity
Tactical Mode may be deactivated at any time to return to the default Science Mode.
Experimental Weapon
[
]
The Mirror Crossfield-class Science Destroyer comes with an Experimental Weapon slot, which is only activated while in Tactical Mode. This additional slot does not fit standard weapons. Unlike standard starship weapons, Experimental weapons are not affected by weapon firing modes, such as those granted by bridge officer abilities.
The Mirror Crossfield Science Destroyer comes equipped with the [Agonized Subatomic Disintegrator]. This experimental weapon seems from the mind of a scientist who sought to make a starship scream. When fired, it causes the target and a nearby secondary foe to decay over time, dealing physical damage and reducing their ability to resist any control effects.
Sensor Analysis
[
]
Sensor Analysis is an active toggle ability available to the Mirror Crossfield-class Science Destroyer while it is in Science Mode. While maintaining a Sensor Lock on a target, the player gains a stacking effect that either improves the damage and power drain against an enemy, or improves any heal directed towards an ally. This effect stacks every 3 seconds, to a maximum of 6 stacks after 18 continuous seconds. To maintain the desired effect, the player must hold the sensor lock.
Subsystem Targeting
[
]
The Mirror Crossfield-class Science Destroyer comes with built-in Subsystem Targeting abilities that it may use while it is in Science Mode. These built-in abilities stay at Rank I and do not automatically rank up when acquiring higher tier Science starships. They are separate from Subsystem Targeting abilities gained through Tactical Space Bridge officer abilities.
Activating a subsystem targeting ability will upgrade all energy weapons to inflict a stacking power drain on the foe's targeted subsystem for the next 10 seconds. They will also have a small chance to knock the targeted subsystem offline for a short duration.
Standard configuration
[
]
Federation starships come with standard equipment and weapons of the lowest mark available at the ship's minimum rank. The items provided are appropriate to the type of vessel and its related playing style.
Scaling starship
This starship's equipment slots, base hull capacity and shield capacity scale as your level increases.
Equipment slots and seating
[
]
As you rank up every 10 levels, up to level 40, the ship's forward weapon slots, aft weapon slots, tactical console slots, engineering console slots, science console slots and available bridge officer (boff) abilities will slowly increase toward endgame capabilities:
Level
Boff seats
(Science Mode)
Boff seats
(Tactical Mode)
0-9
2
0
3
2
2
    
    
10-19
2
1
3
3
2
    
    
20-29
3
1
4
3
3
    
    
30-39
3
2
4
4
3
    
    
40+
4
2
5
Hull strength
[
]
This table shows how the ship's hull strength scales at each level. The base hull of all scaling starships is 10,000, which is then multiplied by the ship's hull modifier (1.1 for the Mirror Crossfield-class Science Destroyer), and then multiplied by the scaling multiplier below at each level.
Hull scaling table
Level
Multiplier
Hull HP
Level
Multiplier
Hull HP
Level
Multiplier
Hull HP
Level
Multiplier
Hull HP
0
1
11000
20
2
22000
40
3
33000
60
4
44000
1
1.05
11550
21
2.05
22550
41
3.05
33550
61
4.1
45100
2
1.1
12100
22
2.1
23100
42
3.1
34100
62
4.2
46200
3
1.15
12650
23
2.15
23650
43
3.15
34650
63
4.3
47300
4
1.2
13200
24
2.2
24200
44
3.2
35200
64
4.4
48400
5
1.25
13750
25
2.25
24750
45
3.25
35750
65
4.5
49500
6
1.3
14300
26
2.3
25300
46
3.3
36300
7
1.35
14850
27
2.35
25850
47
3.35
36850
8
1.4
15400
28
2.4
26400
48
3.4
37400
9
1.45
15950
29
2.45
26950
49
3.45
37950
10
1.5
16500
30
2.5
27500
50
3.45
37950
11
1.55
17050
31
2.55
28050
51
3.505
38555
12
1.6
17600
32
2.6
28600
52
3.56
39160
13
1.65
18150
33
2.65
29150
53
3.615
39765
14
1.7
18700
34
2.7
29700
54
3.67
40370
15
1.75
19250
35
2.75
30250
55
3.725
40975
16
1.8
19800
36
2.8
30800
56
3.78
41580
17
1.85
20350
37
2.85
31350
57
3.835
42185
18
1.9
20900
38
2.9
31900
58
3.89
42790
19
1.95
21450
39
2.95
32450
59
3.945
43395
T6-X upgrade
By using an [Experimental Ship Upgrade Token], the Mirror Crossfield-class Science Destroyer may be upgraded to T6-X, unlocking an extra ship device slot, universal console slot, and the ability to slot an extra starship trait.
Ship comparison
[
]
Following table compares this ship to other Crossfield-class variant.
Ship

Rank

Tier

Hull

 
 
 

Uni

BOffs

IR

Cost

Crossfield Science Spearhead

1

6
44850
1.3
1.25
4
3
✓
4
2
5
3
✗
10
0.18
45
Mirror Crossfield Science Destroyer

1

6
37950
1.1
1.425
4
3
✓
4
2
5
3
✗
12
0.18
50
Crossfield Science Spearhead Refit

1

6
48300
1.4
1.1
4
3
✓
3
3
5
3
✗
11
0.2
60
Legendary Glenn Temporal Operative Science Vessel

1

6
36225
1.05
1.45
4
2
✗
4
2
5
3
✗
11
0.17
40
30,000
Admiralty ship
[
]
Admiralty Ship
15
54
57
+20 TAC and SCI when Alone
Notes
[
]
External links
[
]