Fire Emblem Warriors: Three Hopes - The Loop
Play Sound

Mirror Universe Danube Class Runabout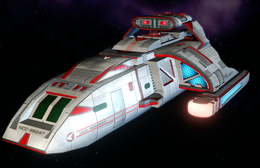 Hull:

| | |
| --- | --- |
| Level 1: | 6000 |
| Level 5: | 6300 |
| Level 10: | 7800 |
| Level 20: | 10800 |
| Level 30: | 13800 |
| Level 40: | 16800 |
| Level 50+: | 21600 |
Matter-Antimatter
Tractor Beam
The Federation Mirror Universe Danube Class Runabout is a special Tier 1 general Runabout class for Federation characters. It was part of a special promotional ship bundle on site "Groupees" when purchasers donated a minimum of $1 or more in aid of charity "Pop Culture Hero Coalition", founded by actress Chase Masterson.
Overview
[
]
This promotional starship is a separate unlock under the C-store's "Promotional" tab and does not unlock the regular Danube Class Runabout (although this ship can utilize the standard Danube-class skin and costume). The Mirror Danube-class Runabout sacrifices a Science console slot for another Tactical slot instead, allowing for increased damage output similar to the Peregrine Fighter.
Class variants
Class
Information


Danube-class

with mission pod

SKIN UNLOCK: Free

---

The Danube-class was introduced in 2368. It can be customized with a mission pod.





Mirror Danube-class

with mission pod

SKIN UNLOCK: Free with this starship

---

The Terran Empire version of the Danube-class.


Yellowstone-class

mirror variant

SKIN UNLOCK: Yellowstone Class Runabout, 500

---

The Yellowstone-class is the latest version of the Starfleet runabout. The Terran hull material can be applied to the Yellowstone if the Mirror Danube-class is available.
Standard configuration
[
]
Federation starships come with standard equipment and weapons of the lowest mark available at the ship's minimum rank. The items provided are appropriate to the type of vessel and its related playing style.
Ship comparison
[
]
The following table compares the Mirror Universe Danube Class Runabout with other Federation small crafts.
Ship

Rank

Tier

Hull

 
 
 

Uni

BOffs

IR

Cost

Captain's Yacht

1

1
6000
0.6
0.55
2
0
✗
1
1
1
2
✗
✗
22
0.2
100
400
Federation Shuttlecraft

1

1
5000
0.5
0.5
2
0
✗
1
1
1
1
✗
✗
28
0.26
100
20,550
Type-8 Shuttlecraft

1

1
4000
0.4
0.4
2
0
✗
0
1
0
1
✗
✗
28
0.18
100
20,550  • 1
Danube Class Runabout

1

1
6000
0.6
0.5
2
0
✗
1
1
1
1
✗
✗
24
0.2
100
34,250
Peregrine Attack Fighter

1

1
5500
0.55
0.5
2
0
✓
2
1
0
1
✗
✗
33
0.3
100
500
Type-10 Shuttlecraft

1

1
5500
0.55
0.5
2
0
✗
1
1
1
1
✗
✗
25
0.22
100
2,250
Delta Class Shuttle

1

1
6000
0.6
0.6
2
0
✗
1
1
1
1
✗
✗
26
0.24
100
500
Yellowstone Class Runabout

1

1
6000
0.6
0.5
2
0
✗
1
1
1
1
✗
✗
24
0.2
100
500
Tal'Kyr Support Craft

1

1
6500
0.65
0.6
2
0
✗
0
1
2
2
✗
✗
15
0.15
100
2,000
Stalker Stealth Fighter

1

1
5500
0.55
0.5
2
0
✓
1
1
1
1
✗
31
0.28
100
500
Class F Shuttle

1

1
5000
0.5
0.5
2
0
✗
1
1
1
1
✗
✗
24
0.2
100
2,000  • 1
Aeon Timeship

1

1
5000
0.5
0.6
2
0
✗
1
0
2
1
✗
✗
28
0.33
300
Mirror Universe Danube Class Runabout

1

1
6000
0.6
0.5
2
0
✗
2
1
0
1
✗
✗
24
0.2
100
Type-7 Shuttlecraft

1

1
4000
0.4
0.5
2
0
✗
1
2
0
1
✗
✗
22
0.22
100
Admiralty ship
[
]
Admiralty Ship
4
5
1
-25% Maintenance per ANY Ship (Not Small Craft)
Gallery
[
]
External links
[
]