GTA: The Criminal Enterprises - The Loop
Play Sound

Abducted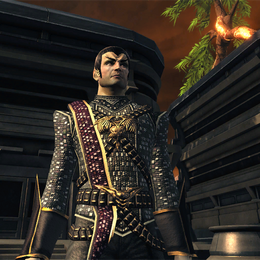 Rewards
6900

5950

480

Plus one of the following:
Mission Text
[
]
<rank>, we're picking up a distress signal from Rh'Ihho Station in the Chulan System. An Elachi force is approaching the station, and they are ill-equipped to deal with a full assault.
I'm diverting the <shipname> to assist. Set course immediately and do whatever you can to stop the Elachi.
Goal
[
]
Report to the Chulan System, which is located in the Beta Quadrant and stop an Elachi attack.
Objectives
[
]
Answering the Distress Call

Go to Chulan System
Abductions

Defeat Elachi
Beam Down to Station

Saving Rh'Ihho Station

Go To Rh'Ihho Station
Abductions

Speak With Chief Engineer in Damage Control
Stop Elachi Devices

Engineering Administration (0/7)
Plasma Exchange (0/7)
Main Engineering (0/7)

Rescue Engineers (0/6)
Stop Elachi Sabotage
Take Elachi Device
Return to Ship

Hail Admiral Kererek
Accolades
[
]
There are no accolades specific to this mission.
Walkthrough
There is no walkthrough for this mission, yet. You can help STOWiki by

writing it here

.
Mission Replay
[
]
This mission is repeatable through Mission Replay, although the Rewards for completing may be reduced. Items scale to a player appropriate level (Scaling Rewards).
You choose 1 of the following:
| Level | Rank | SP | Exp | Mark <> |
| --- | --- | --- | --- | --- |
| 26–29 | Subcommander | 1552 | 1338 | VI |
| 30–39 | Commander | 1743 | 1878 | VIII |
| 40–49 | Subadmiral I & II | 1935 | 1856 | X |
| 50 | Vice Admiral | 2126 | 1856 | XI |