GTA: The Criminal Enterprises - The Loop
Play Sound
Communication Breakdown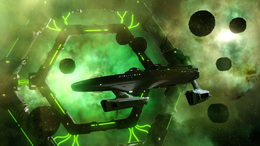 Rewards
3120

780

You will receive the following reward:
Not to be confused with the mission "Communications Breakdown".
Synopsis
[
]
Now promoted to Lieutenant, the player accompanies U.S.S. Chimera and U.S.S. Voyager to investigate the loss of communications with the U.S.S. Khitomer, which is severely damaged by Borg attack. The three ships begin to assist, only to be caught in the middle of another active Borg incursion. While the Chimera and Voyager remains behind to defend the damaged Khitomer and attempt to slow the Borg, the player's ship is sent ahead to warn their apparent destination: the Vega System...
Outline
[
]
Mission Text
[
]
After successfully defeating the Borg, your orders are to go to the Pollux IV system and rendezvous with the U.S.S. Chimera and U.S.S. Voyager, in response to a distress call from the U.S.S. Khitomer.
Goal
[
]
Go to the Pollux IV system, which is located in the Beta Quadrant, and meet with the U.S.S. Khitomer.
Objectives
[
]
Investigate What Happened to the U.S.S. Khitomer

Go To Pollux System
Introductions

Consult with your Bridge Officer
Approach the U.S.S. Khitomer
Scan the Khitomer

Data Collection

Scan Point Alpha
Scan Point Beta
Answer Hail
Scan Point Gamma

Unexpected Guests

Fend off Borg Attack
Defend the U.S.S. Khitomer

Use Full Impulse to Reach the Khitomer

Data Recovery
Continue Data Recovery

Transmit Data to the U.S.S. Voyager
Analyze the Data

The Borg Assault

Return to the Khitomer
Defeat Borg Assault Wave
Defeat Second Borg Assault Wave
Defeat Borg Sphere

To Vega

Hail Admiral Janeway to Report
NPC Starships
[
]
Accolades
[
]
There are no accolades specific to this mission.
Walkthrough
There is no walkthrough for this mission, yet. You can help STOWiki by

writing it here

.
Notes
[
]
Gallery
[
]