Line 26:
Line 26:
 

== Outline ==

 

== Outline ==

 

=== Mission Text ===

 

=== Mission Text ===

 
+

==== Federation ====

 
+

{{missiontext|The Federation Council has authorized the release of the Founder from the detention facility where she is currently being held.

 
+
 
+

I need someone who Eeaun and the Founder will respect to complete the transfer. You're the best candidate for the task.

 
+
 
+

I don't expect any problems, but I didn't expect Jem'Hadar from the past to crash the Borg conference, either. So take my recommendations with a grain of salt.

 
+
 
+

The important thing is the safety of Eraun and the Founder. We need their help if we want to end this standoff without more bloodshed.

 
+

}}

 
+
 
+

==== Klingon ====
---
Revision as of 19:07, 3 March 2012

Facility 4028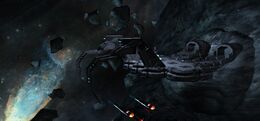 Summary
When you visit a mysterious Federation holding facility to seek aid from an old enemy, you'll find that you aren't the only one that wants her blessing.
Synopsis
Outline
Mission Text
Federation
The Federation Council has authorized the release of the Founder from the detention facility where she is currently being held.
I need someone who Eeaun and the Founder will respect to complete the transfer. You're the best candidate for the task.
I don't expect any problems, but I didn't expect Jem'Hadar from the past to crash the Borg conference, either. So take my recommendations with a grain of salt.
The important thing is the safety of Eraun and the Founder. We need their help if we want to end this standoff without more bloodshed.
Klingon