Fire Emblem Warriors: Three Hopes - The Loop
Play Sound

House Pegh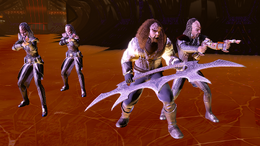 Rewards
8600

9550

720

Plus one of the following:
Outline
[
]
Mission Text
[
]
The Empire requires your assistance with a covert mission deep in Iconian territory. It is dangerous, but if successful it has a chance of turning the tide of the war in our favor.
Report to the Dinasia system. There you will meet a man named Ramir. He wants to explain the details of the operation to you personally.
Goal
[
]
Report to the Dinasia system, which is located in the Beta Quadrant, and meet with Ramir.
Objectives
[
]
NPCs
[
]
NPC starships
[
]
Accolades
[
]
There are no accolades specific to this mission.
Walkthrough
There is no walkthrough for this mission, yet. You can help STOWiki by

writing it here

.
Mission Replay
[
]
This mission is repeatable through Mission Replay, although the Rewards for completing may be reduced.
Iconian database entries
[
]
Inform our allies in the
Vaadwaur
to remain vigilant for signs of life in
Krenim
space. All contacts in that region must be stamped out before they can become a danger to us. We know the
Federation
vessel designated
Voyager
was in the sector searching for signs of the Krenim. We have also detected scavengers in the area. They cannot be allowed to recover artifacts that might lead to the restoration of Krenim technology or the Imperium.
Our
Solanae
servitors report they are unable to reproduce the experiment in the
Calbriden system
without the construction of a new station, which will take more than 200 cycles to complete.
Until we are able to transform a pocket of space in which they can survive, the Solanae must remain in reserve.
We must complete our campaign to take this galaxy as quickly as possible. Then we can re-integrate the Solanae into the Whole.
Without Unity, we are fractured. We are helpless. We are vulnerable.
We can never be vulnerable again.
All must be part of our Whole. When it is complete, we will be One. Our Heralds will protect our worlds. Our Elachi and Vaadwaur will defeat our enemies. Our Solanae will create new technology for our fleets.
All of the pieces are necessary for the Whole. Even the Other. Without the Other, there is no One.
Notes
[
]