Raise a Floppa - The Loop
Play Sound
Timeline Change Imminent!

---

This article contains information that no longer applies to the current version of Star Trek Online. It is provided only for historical purposes.

No Win Scenario
You will receive the following reward:
- / Boost / Boost + Fleet Mark Event

1st wave - 2 / 3 / 4 marks
2nd wave - 3 / 4 / 5 marks
3rd wave - 3 / 5 / 6 marks
4th wave - 10 / 12 / 15 marks
5th wave - 18 / 22 / 27 marks
6th wave - 28 / 35 / 42 marks
7th wave - 34 / 44 / 53 marks
8th wave - 55 / 72 / 87 marks
9th wave - 89 / 117 / 141 marks
10th/Final wave - 144 / 188 / 226 marks TBC

Total 388(?) / 502 / 603(?) marks TBC
The No Win Scenario was a 5 person-space mission that rewarded fleet marks

and required the players to accomplish "Combat Simulation 347" in which they had to protect a Civilian Transport for as long as possible.
Cryptic took down No Win Scenario January 29th, 2015. Official Response: "The No Win Scenario, both Starfleet and Klingon versions, has been removed from the PvE queue list. With the increase in maximum player level from 50 to 60, we no longer feel this queue is accomplishing its job of providing an intense escalating challenge where players really have to struggle to advance to the later waves. We do have plans to revisit this queue in the near future and rebuild it so it can continue to live up to its name."
Synopsis
[
]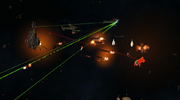 The team would had to defend a Civilian Transport from a randomly-selected enemy faction. There were ten waves, each containing more enemy units than the previous. The mission ended when either the transport was destroyed, or the team protected it long enough to defeat the tenth wave.
As the name suggested, the mission was designed to be practically impossible. The majority of players were not expected to get beyond wave four or five.
Outline
[
]
Mission text
[
]
It's a battle for survival in this holodeck combat simulation. A transport is under attack. The enemies are relentless. How long can you survive?
Goal
[
]
Defend the civilian transport for as long as you can.
Objectives
[
]
Signal The Transport

::Loading Program:: Mission Begins in: 60 seconds
Wave One
Next Wave In: 0:30
Wave Two
Next Wave In: 0:30
Wave Three
Next Wave In: 0:15
Wave Four
Next Wave In: 0:15
Wave Five
Next Wave In: 0:15
Wave Six
Next Wave In: 0:15
etc.
Enemies
[
]
The enemy faction you will face is randomly determined by the game engine.
Accolades and Titles
[
]
Unlocking the accolades for beating waves 8, 9, and 10 are broadcast to all players in Star Trek Online.

The Hall Of Fame contains a list of players who have beaten the No-Win Scenario plus links to first victories and speedruns.
Release Notes for: No Win Scenario
[
]
From the: Release Notes: July 12, 2012 (Season 6: Under Siege)
This is a new five man team mission available to both Fed and KDF players that have reached level 50.
This mission is available from the PvE queue at any time.
The mission consists of 10 Waves.

All team members are rewarded Fleet Marks automatically at the end of each successful wave.

Each wave will get progressively harder and the reward for completing a wave will get progressively better.
This is designed to be a true No Win Scenario.

Players are not expected to get much further than wave 6 or 7.
However, the mission is not artificially gated and can be completed if you beat all ten waves.

There are new accolades and titles for this as well beginning with the completion of wave 5.
Walkthrough
For a walkthrough of this mission, visit the Walkthrough page.
Bug
[
]
If the fleet leaves the system prior to the next wave; there is no penalty assessed and the fleet marks are awarded as if the mission was completed. This was fixed with a March patch.
External link
[
]