Raise a Floppa - The Loop
Play Sound
Timeline Change Imminent!

---

This article contains information that no longer applies to the current version of Star Trek Online. It is provided only for historical purposes.

Quarantine
Rewards
260

65

Quarantine is a diplomacy mission available on Memory Alpha and mainly taking place on Deep Space K-7.
Mission Text
[
]
Goal
[
]
There is no in-game mission goal available for this mission.
Objectives
[
]
Find Dr. Yoc'm on K7
Deliver Supplies to Nurse Lepa on K7
Review Delivery Report
Confront Dr. Yoc'm
Research an Antigen
Apply the Correct Antigen
Report to Lt. Orlando Mei at Memory Alpha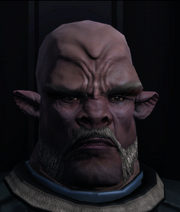 Walkthrough
[
]
After speaking to the Doctor, go to the Lab:
Use the first console to talk to Memory Alpha
Use the second console to analyze the report from Memory Alpha
In the corner of the lab, opposite the turbolift, an NPC is sick on the floor behind a shield, analyze him
Use the third console to test combinations of containers, blood, and compounds
Now go to the bay beside the nurse, in the back, there is a tower console, enter in your solution and synthesize
Beside the nurse is the replicator, pick it up
Take the antigen to the NPC in the corner, test it on him
If the following solution didn't work, please correct.
Solution
[
]
Choose dilute sulfuric acid (diluted Sulfuric Acid)
Use equipment (Keep Environment)
Choose Platinum (Platinum) or Tungsten (Tungsten)
Use surface (Keep Surface)
Use human blood sample (Apply Human Blood Sample)
Adding mixture (add compound)
Use calcium EDTA (Calcium EDTA Apply)
Use additional mixture (Apply Additional Compound)
Use Unithol (Apply Unithol)
Done (Done)
Notes
[
]
The repeatability of this mission has been removed as of July 15th, 2011 until a bug that prevented most players from repeating daily diplomatic missions can be fixed.
External links
[
]
Quarantine Walkthrough Video on the Youtube channel.