Fire Emblem Warriors: Three Hopes - The Loop
Play Sound

Researcher Rescue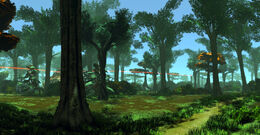 Rewards
2080

720

384

You will receive the following reward:
In Researcher Rescue, the player is sent to the Kassae System to attempt to regain contact with the Federation science station there.
Summary
[
]
A Federation archaeology team has uncovered something that will put your crew in grave danger.
Mission Text
[
]
Starfleet has lost contact with the Federation science station in the Kassae System in the Kassae Sector of the Regulus Sector Block.
Because all communications from Kassae II must be boosted by a satellite that compensates for metreon isotopes prevalent in the system, it may be that the communications array is in need of repair.
Please make the necessary repairs to the communications array and re-establish contact with the science station.
Goal
[
]
Proceed to the Kassae system in the Kassae Sector of the Beta Quadrant and re-establish communication with the Federation science station.
Objectives
[
]
Subspace Silence
Into the Fire

Talk to Scientist
Obtain Fire Suppression Equipment
Deactivate Containment Field
Extinguish Fires (0/6)
Rescue Scientists (0/3)
Beam Up to Ship

Continued Investigation
Ambush!

Scan Orbit
Clear Gorn from Orbit
Beam Down to Kassae IV

Ancient Claims

Scan Nearby Area
Disable Energy Towers (0/3)
Recover Iconian Artifact (Delta Recruits)

[Science]

Override Shield Generator
Defeat the Gorn Captain
Beam Up to Ship

Safe Transport

Go To Kassae Solar System
Disable Gorn Battleship
Beam Hostages Onboard
Return to Sector Space

Hail Starfleet to Report
NPCs
[
]
NPC Starships
[
]
Accolades
[
]
Icon
Name
Description
How to Get
Points
Name the Stakes
Scan Kassae II
Scan the planet at the beginning of the mission
25
Fire Suppressor
Extinguish all the fires on the Kassae Station
Extinguish all the fires on the Kassae Station
NO LONGER AVAILABLE
25
Cleaning up Their Mess
Check the Gorn Victim on Kassae IV
Scan the dead body around the hut where the boss is on Kassae IV.
25
Walkthrough
For a walkthrough of this mission, visit the Walkthrough page.
Mission Replay
[
]
This mission is repeatable through Mission Replay, although the Rewards for completing will be reduced. Items scale to a player appropriate level (Scaling Rewards), as followed:
You choose 1 of the following:
| Level | Rank | SP | Exp | Mark <> |
| --- | --- | --- | --- | --- |
| 5–9 | Lieutenant | 585 | 202 | II |
| 10–19 | Lt. Commander | 1158 | 675 | IV |
| 20–29 | Commander | 1552 | 1338 | VI |
| 30–39 | Captain | 1743 | 1878 | VIII |
| 40–49 | Rear Admiral | 1935 | 1856 | X |
| 50–60 | Admiral | 1935 | 2148 | XI |
Notes
[
]
The mission has been significantly reworked as part of the Season 8.5 update patch tied to the 4 Year Anniversary Event on January 30, 2014.
This mission was reworked again for Season 15. Notably, Dr. Shian accompanies the player after meeting them, as opposed to beaming up to the ship. She gives a cultural background of the Gorn and their ancestral claims as the mission progresses.