GTA: The Criminal Enterprises - The Loop
Play Sound
Routine Maneuvers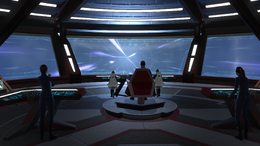 You will receive the following reward:
Routine Maneuvers is part of the Tutorial mission for DSC Starfleet characters.
Outline
[
]
Mission text
[
]
Aboard the <<shipname>> you encounter an atypical scenario during your Training Cruise.
Goal
[
]
Serve and defend on the <<shipname>>.
Objectives
[
]
Talk to Sylvia Tilly
Talk to the Duty Officer in the Shuttlebay
Enter the Turbolift
Go to the Bridge
Talk to Captain Schaefer
Release Tractor Moorings
Speak with Captain Schaefer
Stand at the First Officer's Station
Discuss the Situation with the Captain
Take Turbolift to Transporter Deck
Get New Orders from Captain
Unlock the Armory
Get a Rifle from the Locker
Equip Your Rifle
Swap Weapons
Secure the Hall
Join the Security Cadets
Klingon Marauders
(Optional) Pick Up Item
Talk to Captain Schaefer
Enter Turbolift
Defeat Klingon Boarders
Breach the Door
Clear out the Klingon Boarders
Talk to Tilly
(Engineering) Boost Ship's Structural Integrity Field (_/3)
(Science) Boost the ship's shield.
(Tactical) Boost Ship's Weapon Systems (_/3)
Talk to Captain Schaefer
Return to the Turbolift
Head to the Bridge
Defeat the Klingon Boarders
Tend to the Wounded Bridge Crew (_/4)
Speak to Evelyn Savea
NPCs
[
]
Enemies
[
]
Klingon Empire
[
]
NPC starships
[
]
Enemies
[
]
Klingon Empire
[
]
Accolades
[
]
There are no accolades specific to this mission.
Notes
[
]
In the mirror universe, after Schaefer's death Tilly's counterpart claims to have murdered the player in order to seize command of the ship herself. ( "Para Pacem") Much later, she is proven to have been exaggerating.
"Pahvo Dissension" features the mirror universe counterparts of many of the human NPCs met during this mission.