Raise a Floppa - The Loop
Play Sound

Secrets of the Ancients
Secrets of the Ancients is a cutscene mission automatically awarded for completing Tier 5 of the New Romulus-track of the Reputation System.
Synopsis
[
]
D'Tan and Head Researcher A'dria enter the underground power plant to find an Iconian gateway and playback an ancient recording. 200,000 years ago, an Iconian is seen talking with another life form, likely a Dewan (though the universal translator is unable to decipher the conversation). Several explosions occur and the Iconian escapes through the gateway. Another recording, 150,000 years old, shows the power plant being connected to a giant machine. The Dewans seem to try to power the gateway, but fail, again resulting in a catastrophic explosion.
Excited about the discovery, D'Tan thanks the player for assisting them and pledges to share any research information they gather from this site.
Federation players are then congratulated by Admiral Quinn, and KDF players by Chancellor J'mpok.
Outline
[
]
Mission Text
[
]
You may have found the last secrets hidden in the depths of New Romulus.
Fight your way to the depths of the Underground Ruins on New Romulus and contact D'Tan when the final room is clear and safe.
Objectives
[
]
Go To Underground Ruins
Signal D'Tan
File Report
NPCs
[
]
Allies
[
]
Romulan
[
]
Starfleet
[
]
Klingon
[
]
Iconian
[
]
Dewan
[
]
Accolades
[
]
There are no accolades specific to this mission.
Map
[
]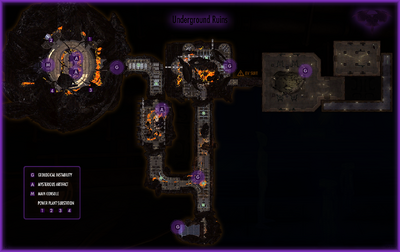 Walkthrough
For a walkthrough of this mission, visit the Walkthrough page.
Notes
[
]
External links
[
]