Raise a Floppa - The Loop
Play Sound

Standoff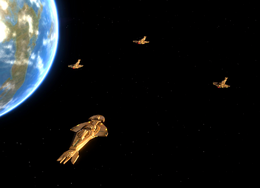 Rewards
Standoff is a diplomacy mission available in the Bajor System. This mission can be obtained by any player allied with the Federation.
Mission Text
[
]
Excuse me, <rank>! I've discovered something and I don't know who to talk to.
While repairing a communication subsystem, I intercepted a transmission from Cardassian ships in orbit and discovered something unusual.
There is a subspace distress signal buried within the transmission. I can't tell which ship is sending it, but one of them is clearly in distress.
Both captains are part of the Cardassian Civil Defense Force, but it sounds like tensions are high and possibly coming to a head.
With everything happening on the ground, I can't get anyone to help me. Is there any chance you could look into this for me?
Goal
[
]
Resolve the conflict between Cardassian ships in the Bajor System.
Objectives
[
]
Listen to the Broadcast
Talk to the Captains
Get Both Sides of the Story
Gather Evidence
Examine Evidence
Talk to Surjan
Talk to Gul Antos
Accolades
[
]
| Icon | Name | Description | Notes | Points |
| --- | --- | --- | --- | --- |
| | Detective | Your expert detective skills have saved an innocent man from a fate he didn't deserve. | Grants Detective title | 25 |
Walkthrough
For a walkthrough of this mission, visit the Walkthrough page.
Notes
[
]
Mission Failure: In the event that a player fails this mission, it is necessary to drop the mission from the Mission Journal and return to Cadet Samua on the surface of Bajor to re-acquire it.
The repeatability of this mission has been removed as of July 15th, 2011.
You may do this mission while piloting a shuttlecraft. If you do, the mission will proceed as if you are on board a ship.