Mission: Starbase 24
Timeline Change Imminent!

---

This article contains information that no longer applies to the current version of Star Trek Online. It is provided only for historical purposes.

Starbase 24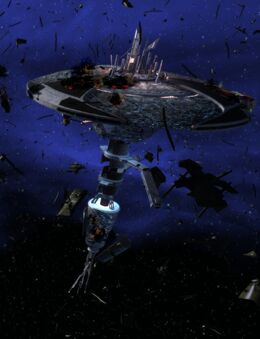 Rewards
104

26

480

50 (daily)

You will receive the following reward:
Uncommon, Rare or Very Rare item
Starbase 24 is a fleet action available for Federation players.
Defend Starbase 24 in the Orion Sector.
Weaken Klingon Attack Forces

Defeat Klingon Ships (0/50)
Destroy Klingon Battleships (0/20)
| Icon | Name | Requirements | Points | Unlocks |
| --- | --- | --- | --- | --- |
| | Cold Warrior | 1st Place in the Starbase 24 Fleet Action | 10 | "Starbase 24" floor trophy |
Walkthrough
For a walkthrough of this mission, visit the Walkthrough page.
This mission was removed with the release of Season Fifteen: Age of Discovery.
Originally, there was a ground mission called "Starbase 24 Rescue" obtainable after the completion of this fleet action. However, as of Season 5, it is no longer available.
There is a special event going on behind Starbase 24 when the main Klingon fleet decloaks. At least 5 Danube Runabout shuttlecrafts are attacking a Vo'Quv Dreadnought.
A named Klingon flagship appears behind the starbase after the mission ends.