Raise a Floppa - The Loop
Play Sound

Stormbound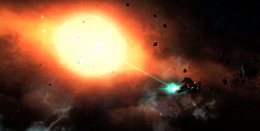 Rewards
12,900

14,325

720

Plus one of the following:
Summary
[
]
Outline
[
]
Mission Text
[
]
The Tox Uthat has fallen into the hands of the Tholians. Our intelligence indicates increased Tholian activity in the Na'kuhl System. Kal Dano believes they are trying to interfere with the Na'kuhl in the present because of actions they will take in the future.
Kal Dano has asked you to rendezvous with him in the Na'kuhl system.
Goal
[
]
Travel to the Na'Kuhl system in the Alpha quadrant.
Objectives
[
]
To Save a Star

Go to the Na'kuhl System
Talk to Kal Dano
Answer Hail from Na'kuhl Representative
Defeat Tholian Raiders
Hail Na'kuhl
Speak with Kal Dano
Hail Kal Dano
Defeat Tholian Attack Groups (0/3)
Disable Tholian Flagship
Launch Shuttle

Into the Parlor

Go To Tholian Bridge
Talk to Kal Dano
Activate EV Suits
Board Tholian Ship
Defeat Tholian Crewmen
Defeat Tholian Security
Reach the Bridge
Defeat Tholian Captain
Talk to Kal Dano
Lower Force Field
Retrieve Tox Uthat
Launch Shuttle

Vacation Planning

Go To Risa
Talk to Kal Dano
Bury the Tox Uthat
Beam Up

No Good Deed

Go To Na'kuhl System
Answer Hail from the Tholian Captain
Defeat Tholian Raiders
Defeat Tholian Attackers
Answer Hail from Na'kuhl Representative
Beam to Pastak

Deus Ex Tempore

Go To U.S.S. Pastak
Talk to Captain Walker
Scan for Beacon
Report Findings to Captain Walker
Activate Transporter
Inspect Kal Dano
Talk to Captain Walker
Beam Up

Contact Command
NPCs
[
]
NPC starships
[
]
Accolades
[
]
There are no accolades specific to this mission.
Walkthrough
There is no walkthrough for this mission, yet. You can help STOWiki by

writing it here

.
Mission Replay
[
]
This mission is repeatable through Mission Replay, although the Rewards for completing may be reduced.
You choose 1 of the following:
Notes
[
]