Fire Emblem Warriors: Three Hopes - The Loop
Play Sound

Surface Tension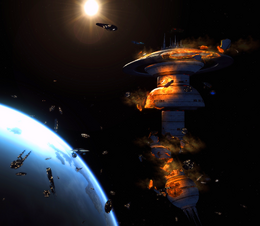 Rewards
11340

9900

You will receive the following reward:
Plus one of the following:
Synopsis
[
]
In early 2410, Rear Admiral Tuvok asks the player to assist in the organization of a conference of major Alpha and Beta Quadrant powers on the future of the Jenolan Dyson Sphere. The talks are cut short when the Undine attack the Sol System. After Tuvok exploits an attempt of telepathic espionage by "Dr. Cooper" to his own advantage, he and the U.S.S. Voyager assist the player in defending the actual main target of the surprise attack: Qo'noS. Joint Klingon-Federation-Romulan forces prevail and Tuvok takes part in the subsequent negotiation of a cease-fire between the Klingon Empire and the Federation in the Great Hall of the High Council.
Outline
[
]
Mission Text
[
]
Recent events have underscored the threat posed by the Undine.
The native species of fluidic space, these aliens have infiltrated galactic powers, including the Federation, by using their shapeshifting and telepathic abilities. In an attempt to form a united front against this threat, I have called for a summit to discuss the means by which the various governments of the Alpha and Beta Quadrants can detect and neutralize the Undine presence.
The location for the talks will be the Jenolan Dyson sphere. Control of this site is currently under dispute by the Federation, the Klingon Empire and the Romulan Republic. However, I believe that access to the sphere should be a secondary concern to that of the threat of the Undine.
Your experiences in the field may prove to provide a valuable perspective, as well as a moderating influence. Please attend as a representative of the Federation.
This mission can only be completed as a single player.
Goal
[
]
Go to the gateway near the Jouret system in the Beta Quadrant and travel to the Jenolan Dyson Sphere to attend a conference about the threat posed by Species 8472, also known as the Undine.
Objectives
[
]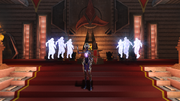 NPCs
[
]
Accolades
[
]
| Icon | Name | Description | How to Get | Points |
| --- | --- | --- | --- | --- |
| | Bit of a Fixer Upper | Viewed the extensive damage to Earth Space Dock during Surface Tension. | View damage at the far Force Field, after parting ways with Ensign R'raak. | 10 |
| | Cracking Eggs | Defeated Commander E'genn on Earth Space Dock during Surface Tension. | | 10 |
| | It's a Trap | Found and defeated 5 Undine masquerading as Starfleet officers on Earth Space Dock during Surface Tension. | Help Injured Officers and replay mission – or beam out and back in before reaching Quinn – for 5 accumulated kills. | 10 |
Walkthrough
There is no walkthrough for this mission, yet. You can help STOWiki by

writing it here

.
Mission Replay
[
]
This mission is repeatable through Mission Replay, although the Rewards for completing might be reduced. Items don't scale to a player appropriate level, and include:
Notes
[
]
Gallery
[
]