No Man's Sky Update - The Loop
Play Sound
Takedown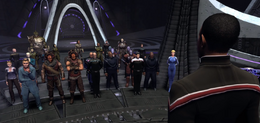 Rewards
12,900

14,325

480

You will receive the following reward:
Synopsis
[
]
Outline
[
]
Mission Text
[
]
The time has come to end the Vaadwaur threat to the Delta Quadrant. Our allies are assembling at the Jenolan Dyson Sphere to plan our assault on the Vaadwaur homeworld. You will serve as the battle commander for the assault.
Admiral Tuvok is waiting for you at the Jenolan Dyson Sphere. He will brief you, and our allies, on our strategy.
Good hunting, <Rank>.
Goal
[
]
Travel to the Jenolan Dyson Sphere to meet with Admiral Tuvok and alliance.
Objectives
[
]
The Sphere
War Room

Go To Jenolan Sphere Base
Ops
Talk to Tuvok
Discuss Strategy with Liaisons
Return to Tuvok
Talk to Representataives
Return to Tuvok
Beam Up

Assault on Vaadwaur Prime

Go To Vaadwaur System
Mission Briefing
Secure Alpha Front

Choose Allies
Defeat Vaadwaur Battlegroups in Alpha Front (0/2)
Answer Hail
Answer Hail from Turei
Answer Hail from Kobali

Secure Bravo Front

Travel to Bravo Front
Choose Allies
Answer Hail
Defeat Vaadwaur Cruiser Groups in Beta Front (0/2)
Disable Satellite Security System

Override Satellite Security System

Answer Hail from Benthans
Answer Hail from Kobali
Answer Hail

Secure Charlie Front

Travel to Charlie Front
Choose Allies
Defeat Vaadwaur Forces in Charlie Front (0/2)
Defeat Remaining Vaadwaur Forces
Secure Orbital Platforms
Hail Talaxians
Answer Hail

Secure Delta Front

Travel to Delta Front
Choose Allies
Defeat Vaadwaur Battle Groups in Delta Front (0/3)
Defeat Remaining Vaadwaur Forces
Disable Repair Platforms

Access Recognition Protocol

Transmit Protocol Override

Answer Hail from Benthans
Answer Hail

Secure Echo Front

Travel to Echo Front
Mission Briefing
Answer Hail from V.S.W. Vozroz
Defeat Gaul
Defeat Gaul's Fleet

Answer Hail
Beam to Surface

The Hunt for Gaul

Go To Vaadwaur Prime
Mission Briefing
Locate Gaul

Enter Tunnel
Reach Hangar
Defeat Vaadwaur
Reach Control Room
Unlock Door
Navigate Tunnels

Defeat Gaul

Wave One
Wave Two
Talk to Gaul
Wave Three
Defeat Gaul
Wave Four
Defeat Gaul

Revelations

Answer Hail from Tuvok
Enter Command Center
Talk to Allies

Talk to The Doctor
Talk to Seven
Talk to Harry Kim
Talk to Tuvok
Talk to Neelix

Search Command Center

Open Door
Retrieve Strange Device

Beam Up

Contact Alliance
NPCs
[
]
Allies
[
]
Federation
Benthan
Kazon
Kobali
Talaxian
Turei
Vaadwaur
Enemies
[
]
Kazon
Vaadwaur
Vaadwaur Scout
Vaadwaur Soldier

Vaadwaur Tech Soldier

Vaadwaur Lieutenant

Vaadwaur Commando

Vaadwaur Tech Commando

Vaadwaur Tech Officer

Vaadwaur Overseer
Overseer Gaul
Bluegill
NPC starships
[
]
Allies
[
]
Federation
Benthan
Cooperative
Hazari
Hierarchy
Hirogen
Kazon
Klingon
Kobali
Romulan Republic
Talaxian
Turei
Vaadwaur
Accolades
[
]
There are no accolades specific to this mission.
Notes
[
]
Interrupting Tuvok during his comments after you select your allies to take with you and before they warp in <such as summoning a carrier pet> can break this mission causing the mission to need to be dropped and restarted from the beginning.
Walkthrough
For a walkthrough of this mission, visit the Walkthrough page.
Issuing orders to allies:
Correct sequence of deploying allied reinforcements:
Alpha front: Kazon
Bravo front: Hazari
Charlie front: Cooperative
Delta front: Hierarchy
Mission Replay
[
]
This mission is repeatable through Mission Replay, although the Rewards for completing might be reduced. Items include:
You choose 1 of the following:

Random Space Equipment Mk XII
Random Space Weapon Mk XII
Random Ground Equipment Mk XII
Random Ground Weapon Mk XII