GTA: The Criminal Enterprises - The Loop
Play Sound
The Kobali Front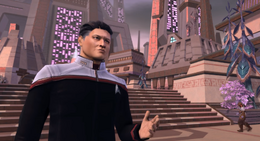 Rewards
860

825

Synopsis
[
]
Outline
[
]
Mission Text
[
]
<Rank>, are you familiar with the Kobali? Their homeworld is under attack by the Vaadwaur and they've requested your aid.
I informed the head of their military that you would render them support on the ground. Their city has been under siege for months and cannot take much more.
Please, do what you can on Kobali Prime to stop the Vaadwaur from destroying the Kobali.
Goal
[
]
Go to Kobali Prime.
Objectives
[
]
NPCs
[
]
Accolades
[
]
There are no accolades specific to this mission.
Mission Replay
[
]
This mission is not repeatable through Mission Replay.
Notes
[
]
The Kobali Front serves as introduction mission to the Kobali Prime adventure zone.
Missions need to be done in the order listed to finish the Act ie. the cavalry then the son and so forth.
The minimum level for the Kobali Ground Battlezone has been scaled down from 53+ to 51+ with launch of Season Eleven: New Dawn, on October 27, 2015.
With the launch of Season Twenty-five: Shadow's Advance, the mission is bugged for Discovery players on PC and consoles. Janeway will not give the player the option of accepting the mission, only her standard greeting. This locks out Discovery players from Kobali, and also unable to finish the Delta Quadrant arc altogether. The only workaround is to join a non-Discovery player who has not done The Kobali Front Mission.