Raise a Floppa - The Loop
Play Sound

The Kramp'Ihri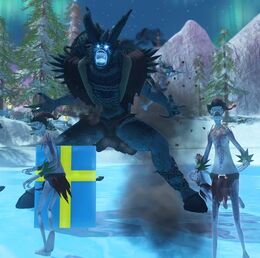 You will receive the following reward:
The Kramp'Ihri is a scheduled Open Mission in Q's Winter Wonderland. As of the 2017 Winter Event, this mission runs twice every 90 minutes. It is preceded and followed by one of the following two pairs of missions, depending on the current time in the schedule:
Once every 20 hours, the player receives an Account-shared 1 x

Daily Event Progress upon completion. When you collect a total 20 of these across your whole Account, you can claim Q's Winter Wonderland Event Grand Prize from your Mission Journal on all characters on your Account.
Outline
[
]
Q has drawn inspiration from the Krampus folklore of Earth, the counterpart to "Saint Nichoals" who would punish naughty children. Q combined this legend with the Klingon Fek'Ihri to make the Kramp'Ihri creature.
The Kramp'Ihri spawns in random areas throughout Q's Winter Wonderland and is announced by the Kramp'Ihri Watcher who tracks his movements and transport players to the spawn location of the Kramp'Ihri. Alongside the Kramp'Ihri, Tortured Elves will also spawn to fight for the Kramp'Ihri.
During combat, the Kramp'Ihri drops presents that may produce winter commodities, captured gingerbread people to rescue or more Tortured Elves.
When the Kramp'Ihri is defeated, he turns into cloud of coal and smoke and move to a new location where the cycle is repeated. The final Holiday Currency Item reward is increased by 1 for every victory over the Kramp'Ihri, and additionally for every 2 gingerbread people rescued.
Objectives
[
]
Chase off Kramp'Ihri as many times as you can in: 5:00

Times Kramp'Ihri chased away: (A)
Gingerbread People Freed: (B)
Completion Reward
[
]
NPCs
[
]
Accolades
[
]
| Icon | Name | Description | How to Get | Points |
| --- | --- | --- | --- | --- |
| | Mine, Mine, Mine! | Open red, blue, and green presents when Kramp'lhri drops them. | Open 33 presents of each color. | 10 |