Fire Emblem Warriors: Three Hopes - The Loop
Play Sound
Timeline Change Imminent!

---

This article or section contains information that no longer applies to the current version of Star Trek Online. It is provided only for historical purposes.

The Kuvah'Magh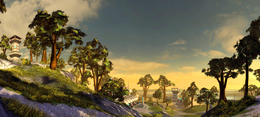 Rewards
2080

720

384

You will receive the following reward:
In "The Kuvah'Magh", the player has to take care of security during a diplomatic meeting between the Klingon Empire and the Federation on Regulus IV.
Synopsis
[
]
Ambassador Kas invited Miral Paris, who is said to be the Kuvah'Magh, as a mediator to a peace conference on Regulus IV. However, spurred by B'vat's propaganda, the talks are sabotaged by Klingons and their Orion mercenaries who believe Miral to be a false savior. Although the talks have failed, Kas eventually assists the player in chasing B'vat away before he can abduct Miral Paris.
Mission Text
[
]
A representative from the Klingon Empire has agreed to meet with Miral Paris on Regulus IV. Lieutenant Paris is believed by some Klingons to be the Kuvah'Magh – a savior figure.
That may or may not be the case, but if it means that the Klingons are willing to talk peace with Starfleet, we'll take the opportunity to do so. We need you to oversee security for the meeting. There are people on both sides of this conflict who would prefer that the war continue, and we cannot allow them to disrupt the meeting.
Go to Regulus IV and make sure that the location is safe.
Goal
[
]
Objectives
[
]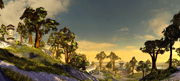 Accolades
[
]
Walkthrough
For a walkthrough of this mission, visit the Walkthrough page.
Mission Replay
[
]
This mission is repeatable through Mission Replay, although the Rewards for completing will be reduced. Items scale to a player appropriate level (Scaling Rewards), as followed:
| Level | Rank | SP | Exp | Mark <> |
| --- | --- | --- | --- | --- |
| 6–9 | Lieutenant | 585 | 202 | II |
| 10–19 | Lt. Commander | 1158 | 675 | IV |
| 20–29 | Commander | 1552 | 1338 | VI |
| 30–39 | Captain | 1743 | 1878 | VIII |
| 40–49 | Rear Admiral | 1935 | 1856 | X |
| 50–60 | Admiral | 1935 | 2148 | XI |
Notes
[
]