GTA: The Criminal Enterprises - The Loop
Play Sound

Turnabout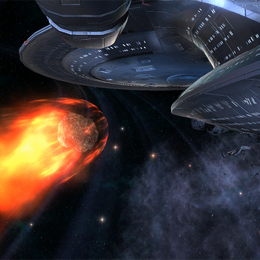 Rewards
6900

5950

480

You will receive the following reward:
Plus one of the following:
Mission Text
[
]
We have located Elachi forces in deep space near a spatial anomaly NGC-863. We know they have a station in the sector, but we don't know its location.
It's time to change the game, <rank>.
We're done chasing our tails. I want you to engage the Elachi, board one of their ships, and take control. Once on board, your mission will be to find any information you can about their forces and fleet movements. But most importantly, find the coordinates of the Elachi base.
Good luck.
Goal
[
]
Go to Deep Space in the Sierra Sector of the Beta Quadrant to take the fight to the Elachi.
Objectives
[
]
Target Alpha
Boarding Party

Go To Elachi Ship
Access Computer Mainframe (0/3)
Save Captives (0/5)
Defeat Elachi Commander
Interrogate Elachi Commander
Defeat Elachi Commander
Stop the Self Destruct
Defend The Pylon 3:00
Beam Back To Your Ship

Keeping the Prize

Elachi Reinfocements Inbound
Defeat the First Wave of Reinforcements
Defeat the Second Wave of Reinforcements
Defeat the Third Wave of Reinforcements
Defeat the Final Wave of Reinforcements
Hail Command

Hail Admiral Kererek
Accolades
[
]
There are no accolades specific to this mission.
Walkthrough
There is no walkthrough for this mission, yet. You can help STOWiki by

writing it here

.
Mission Replay
[
]
This mission is repeatable through Mission Replay, although the Rewards for completing might be reduced. Items scale to a player appropriate level (Scaling Rewards), as followed:
You choose 1 of the following:
| Level | Rank | SP | Exp | Mark <> |
| --- | --- | --- | --- | --- |
| 29 | Subcommander | 1552 | 1338 | VI |
| 30–39 | Commander | 1743 | 1878 | VIII |
| 40–49 | Subadmiral I & II | 1935 | 1856 | X |
| 50 | Vice Admiral | 2126 | 1856 | XI |
Notes
[
]