GTA: The Criminal Enterprises - The Loop
Play Sound
Vault Shuttle Event
You will receive the following reward:
Plus one of the following:
The Vault Shuttle Event is a fleet action for 5 players allowing only small crafts. The successful completion of this mission rewards Romulan Marks for each player. These can be used in projects advancing the Romulan Star Empire reputation track of the personal Reputation System.
Synopsis
[
]
Control of the Vault has once again fallen into the hands of the Romulans. Obisek, leader of the Reman Resistance, is sending his ships to draw off the bulk of the Romulan fleet. While the Remans battle in space, Obisek will lead a small force in shuttles to infiltrate the Vault and reclaim the station for his people.
But the Romulans will not abandon their prize so easily. The battle will be difficult. Can you take control of the Vault before time runs out to assure victory and independence for the Remans, or will Romulan oppression continue?
Help Obisek regain control of the Vault. Inside, you will face waves of Romulan fighters, entrenched turret batteries, Birds-of-Prey and other Romulan surprises.
During the event, you will need to protect Obisek's ship, the Rerik, as he works to override the command codes and hack into Romulan control systems. But this isn't a one-man job – players will need to work together to help Obisek with tasks that arise as he initializes the override sequence.
Outline
[
]
Mission Text
[
]
Romulan invaders are occupying the Vault, and Obisek needs allies to drive them out! Answer the call and join the Reman Resistance!
Goal
[
]
Protect the Rerik as Obisek leads you through the Vault to the Thalaron Generator Chamber. You will have a limited amount of time to clear each area of the Vault.
Objectives
[
]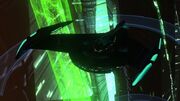 Secure the Vault

Read Mission Briefing
Entry Chamber

Reroute Power at Junction 32
Reroute Power at Junction 89

Go to the Reactor Core
Reactor Core

Protect the Rerik

Disrupt Energy Cores 1 and 3

Energy Core 1
Energy Core 3

Disrupt Energy Cores 2 and 4

Energy Core 2
Energy Core 4

Secure the Reactor Core

Go to the Thalaron Projector
Thalaron Projector

Protect the Rerik

Help Obisek Defend the Rerik
Transmit Fractal Virus

Destroy D'deridex
Secure the Thalaron Projector

The Vault is ours. Collect your Datalogs.
NPCs
[
]
Enemies
[
]
Romulans
[
]
Light Plasma Torpedo Turret
Light Disruptor Beam Turret
Walkthrough
There is no walkthrough for this mission, yet. You can help STOWiki by

writing it here

.
See also
[
]
Special Task Force missions (STFs): 5-player missions comparable to the Vault Shuttle Event, albeit using large vessels
External links
[
]
List of Task Force Operations
Min.
Lvl.
Mission name
Region
Type
Team
Reputation
Location
5
"Starbase Fleet Defense"
Standard
20
None
Fleet Starbase
5
"Fleet Alert"
Standard
5
None
Fleet Starbase
5
"Fleet Transport Defense"
Standard
5
None
Fleet Starbase
5
"Starbase Incursion"
Standard
5
None
Fleet Starbase
10
"Romulan Imperial Minefield"
Standard
5
None
Romulan Imperial Minefield
50
"Crystalline Catastrophe"
Standard + Featured
10
None
Teneebia Sector
50
"Colony Invasion"
Standard
5
None
Federation Colony
10
"Arena of Sompek"
Standard + Featured
5
None
Qo'noS Holodeck
50
"Kobayashi Maru"
Standard + Featured
5
None
Gamma Hydra Simulation
50
"Infected: The Conduit"
Standard
5
Omega
Starbase 82
50
"Infected: Manus"
Standard
5
Omega
Starbase 82
50
"Cure Applied"
Standard
5
Omega
Vorn System
50
"Cure Found"
Standard
5
Omega
Vorn System
50
"Khitomer Vortex"
Standard
5
Omega
Quadra Sigma System
50
"Khitomer in Stasis"
Standard
5
Omega
Vega IX
50
"Into the Hive"
Standard
5
Omega
Borg Unicomplex
50
"Hive Onslaught"
Standard
5
Omega
Borg Unicomplex
50
"Transdimensional Tactics"
Standard
5
Nukara
Nukara Prime
50
"Self Destructive Tendencies"
Standard
5
Nukara
Nukara Prime
50
"Azure Nebula Rescue"
Standard
5
Romulus/Nukara
Azure Nebula
50
"Vault: Ensnared"
Standard
5
Romulus/Nukara
The Vault
50
"Vault Shuttle Event"
Standard
5
Romulus
The Vault
50
"Atmosphere Assault"
Standard
5
Romulus
Rhi System
50
"Defend Rh'Ihho Station"
Standard
5
Romulus
Rh'Ihho Station
50
"Storming the Spire"
Standard
5
Dyson
Solanae Dyson Sphere
50
"Breach"
Standard
5
Dyson
Solanae Dyson Sphere
50
"Undine Assault"
Standard
5
8472
Various
50
"Undine Infiltration"
Standard
5
8472
Bajor: Hathon
50
"Viscous Cycle"
Standard
5
8472
Fluidic Space
50
"Borg Disconnected"
Standard
5
Delta/8472/
Dyson/Omega
Borg Unimatrix
50
"Bug Hunt"
Standard
5
Delta/Iconian
Delta Quadrant
60
"Battle of Korfez"
Standard
5
Delta/Iconian
Delta Quadrant
50
"Brotherhood of the Sword"
Standard
5
Iconian
Qo'noS: First City
50
"Gateway to Gre'thor"
Standard
5
Iconian
Qo'noS System
50
"Herald Sphere"
Standard
5
Iconian
Herald Sphere
50
"Assault on Terok Nor"
Standard
5
Terran
Terok Nor
50
"Counterpoint"
Standard
5
Terran
Deep Space 9
50
"Days of Doom"
Standard
5
Temporal
23rd Century
50
"Battle of Procyon V"
Standard
5
Temporal
Procyon V
50
"Miner Instabilities"
Standard
5
Temporal
Edren System
60
"Gravity Kills"
Standard
5
Lukari
Microquasar Hypermass
60
"Tzenkethi Front"
Standard
5
Lukari
Eta Serpentis II
50
"Dranuur Beach Assault"
Cooperative
10
Lukari
Dranuur System
60
"Dranuur Gauntlet"
Standard
5
Lukari
Dranuur System
50
"Binary Circuit"
Competitive
10
Competitive
Borg Cooperative Cube
50
"Core Assault"
Competitive
10
Competitive
Adelphous System
50
"Twin Tribulations"
Competitive
10
Competitive
Omega Leonis System
60
"Swarm"
Standard
5
Gamma
Gamma Quadrant
10
"Battle at the Binary Stars"
Standard
5
Discovery
Unnamed Binary Star System
10
"Best Served Cold"
Standard
5
Discovery
Rura Penthe
10
"Defense of Starbase One"
Standard
5
Discovery
Starbase One
10
"Mycelial Realm"
Standard
5
Discovery
Mycelial network
10
"Operation Riposte"
Standard
5
Discovery
Priors World
10
"Pahvo Dissension"
Standard
5
Discovery
Pahvo System
10
"Peril Over Pahvo"
Standard
5
Discovery
Pahvo System
10
"Remain Klingon"
Standard
5
Discovery
Qo'noS System
10
"To Hell With Honor"
Standard
5
Discovery
Beta Lankal System
Time-limited events
10
"Cat's Tale"
Seasonal
5
Events
Pyris VII
10
"First Contact Day Re-Enactment"
Seasonal
5
Events
Bozeman, Montana
10
"Winter Invasion"
Seasonal
5
Events
Winter Event
50
"Mirror Invasion"
Featured
5
Events
Vauthil Station
10
"Synth Wave"
Featured
5
Events
Mars
65
"Operation Wolf"
Featured
5
Events
Star Fortress
65
"Iuppiter Iratus"
Featured
5
Events
Jupiter
50
"Red Alert: Borg"
Red Alert
5
None
Alpha and Beta Quadrant
50
"Red Alert: Elachi"
Red Alert
5
None
Jouret System
50
"Red Alert: Na'kuhl"
Red Alert
5
None
Alpha, Beta, Delta Quadrants
50
"Red Alert: Tzenkethi"
Red Alert
5
None
Alpha Quadrant
50
"Red Alert: Tholian"
Red Alert
5
None
Azure Nebula