GTA: The Criminal Enterprises - The Loop
Play Sound
Warehouse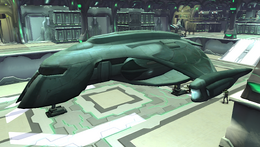 Rewards
945

825

480

20

In Warehouse, the player must find a way to resolve a dispute between Madran and the New Romulans.
Synopsis
[
]
The New Romulans are having problems with Madran, a Ferengi contractor they hired to manage the supply lines. After learning more about the situation from Lieutenant Tanenga in Warehouse Alpha-2 (Located next to the Romulan Shuttle on the far right of the Staging Area), the player enters the storage area of the warehouse and speaks to Madran in person. The Ferengi, still bitter at the player for ruining his business at the Hfihar Mining Facility, grudgingly allows them to review the cargo manifests and match them to the supplies in the crates themselves. The player does so, and finds they do not match.
After confronting Madran again, he claims the more valuable supplies are in a secure storage unit: "You can't be too careful, you know -- someone might be trying to steal something!" He allows the player access to the secure unit, where a number of Hirogen hunters ambush the away team. After the Hirogen are defeated, the player attempts to apprehend Madran, but the Orions and Hirogen in the base manage to buy the Ferengi (who claims he is being coerced by the Tal Shiar) enough time to escape in a Romulan Shuttle.
Outline
[
]
Mission Text
[
]
Lieutenant Tanenga in the warehouse contacted me. The colony is having supply issues, and the source of them may be a Ferengi contractor they hired to manage the supply lines.
We think having a neutral party like you would help defuse the conflict. Would you be willing to sort this out?
Goal
[
]
Speak to Lieutenant Tanenga inside the Warehouse.
Objectives
[
]
Speak to the Warehouse Foreman
Speak to Madran
Download Manifests and Then Compare Them to Cargo (6/6)
Confront Madran
Investigate Secured Storage
Defeat Hirogen Ambush
Locate Madran
Defeat Madran's Guards
NPCs
[
]
Enemies
[
]
Hirogen
[
]
Orion
[
]
Accolades
[
]
There are no accolades specific to this mission..
Map
[
]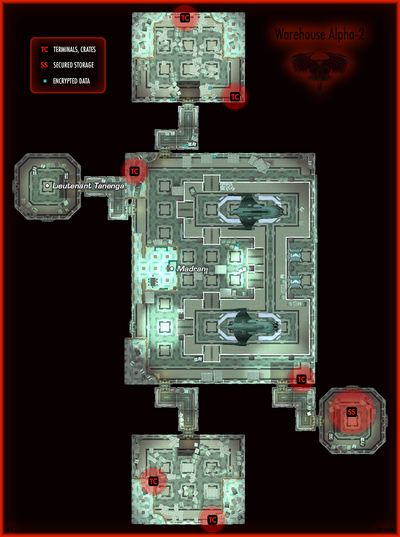 Walkthrough
For a walkthrough of this mission, visit the Walkthrough page.
Gallery
[
]
Notes
[
]
This mission was once only available to players who have completed Tier 1 of the Romulan Reputation System prior to the Agents of Yesterday Artifacts update.
Madran previously appeared in "Mine Enemy", the events of which he revisits here.
You can find encrypted files around the warehouse that contain New Romulus Research which is used for a assignment with the historian.
Dialogue with Madran is bugged for Romulan Republic Characters. While text refers to the Player as Romulan the Audio is for the chosen Faction-aligned.