GTA: The Criminal Enterprises - The Loop
Play Sound

Mogh Battlecruiser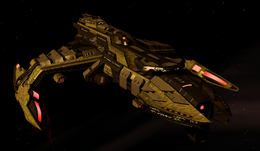 Requires an
Upgrade Token
Hull:

| | |
| --- | --- |
| Tier 5: | 37500 |
| Lvl 50 T5U: | 43125 |
| Lvl 55 T5U: | 46563 |
| Lvl 60 T5U: | 50000 |
| Lvl 65 T5U: | 56250 |
Matter-Antimatter

This article is about the T5
playable starship
. For the improved T6 version, see
Kurak Battlecruiser
.
Release date: December 12, 2013

The Mogh-class Battlecruiser is a Tier 5 (Level 50) Battlecruiser which may be flown by Klingon Defense Force characters, including Klingon Empire-aligned Romulan Republic and Dominion characters. All faction restrictions of this starship can be removed by having a level 65 KDF character or by purchasing the Cross Faction Flying unlock from the Zen Store.
Players can obtain this starship from the Zen Store for 2,500

.

Purchasing this starship will unlock a Fleet Ship Module discount when purchasing the Fleet Mogh Battlecruiser (T5).
Overview
[
]
Several teams of engineers have been working on iterations of the Klingon Defense Force's battlecruiser technology. One team, led by Ambassador Worf, developed a smaller, more nimble ship intended to combat enemies who rely on speed as a defense. In honor of his contributions to the project, Ambassador Worf was allowed to name the new starship class. He chose the name "Mogh" in honor of his father, a Klingon warrior who died in the Khitomer massacre of 2346.
The Mogh-class Battlecruiser is more offensively focused than the Negh'Var class, but slightly less durable. It was designed with versatility in mind and offers a balance between offense and defense. It features a Dynamic Defense Deployment System (or D.D.D.S.), which is a versatile rapid defense deployment weapon designed specifically for the Mogh Battlecruiser.
Like most Klingon Battlecruisers, the Mogh maintains an aggressive profile, but takes design cues from other recent KDF ships such as the Bortasqu' class and Peghqu'-class Heavy Destroyer. Weapon hardpoints are readily visible on the hull, including a large, distinct weapon point in the center of the ship for the D.D.D.S., and the ship's few windows are secured in recessed niches that are covered up in combat. The Mogh class also comes with a Mogh Ship Material which is shiny and more metallic than other Klingon hull materials.

Class variants
Class
Information

Mogh class

SKIN UNLOCK: Free

---

The Mogh class has short, stout proportions, and its outer hull is covered in thick, segmented armor plating. Ship's wings and nacelle pylons angle downward slightly, though a straightened pylon option is available on both Fleet variants. The front of the hull is "forked", separated into two sections by a large, blocky deflector array.

Kurak class

SKIN UNLOCK: Kurak Battlecruiser, 3,000

---

The Kurak class was developed by the Klingon Defense Force in 2410. The Kurak features larger and blockier warp nacelles, wider mission pod and "head" section, longer and less bulkier "neck" and additional weapon pods on underneath of the ship's wings. Its wings angle slightly downward forward.
Starship Mastery
[
]
Starship Mastery
BATTLECRUISER
Level
Name
Description
I
Absorptive Hull Plating
+25 Physical Damage Resistance Rating.
+25 Kinetic Damage Resistance Rating.
II
Enhanced Weapon Banks
+15% Critical Severity.
III
Enhanced Hull Plating
+25 All Energy Damage Resistance Rating.
+25 Radiation Damage Resistance Rating.
IV
Armored Hull
+10% Hull Hitpoints.
Abilities
[
]
Universal consoles
[
]
The Mogh Battlecruiser comes equipped with the [Console - Universal - Dynamic Defense Deployment System].
This dynamic weapon system functions differently depending upon which Cruiser Command has been activated:
This ability is part of the Deadly Maneuvers Set, which also includes [Console - Universal - Ablative Hazard Shielding] obtainable with Kurak Battlecruiser (T6), but also equippable on the Mogh Battlecruiser. For each console added after the first, an additional passive bonus is unlocked.
Cloak
The Mogh-class Battlecruiser has a cloak that allows the ship to cloak when not in combat, granting stealth and a damage bonus upon decloaking.
Cruiser commands
As a Battlecruiser, this starship supports the following cruiser commands:
Standard configuration
[
]
Klingon starships come with standard equipment and weapons of the lowest mark available at the ship's minimum rank. The items provided are appropriate to the type of vessel and its related playing style.
T5-X upgrade
By using an [Experimental Ship Upgrade Token], the Mogh-class Battlecruiser may be upgraded to T5-X, unlocking an extra ship device slot, universal console slot, and the ability to slot an extra starship trait.

Note that upgrading the Fleet Mogh Battlecruiser (T5), the fleet version of the Mogh Battlecruiser, will not apply the upgrade to this starship.
Ship comparison
[
]
The following table compares the Mogh with other tier 5 Klingon battlecruisers.
Ship

Rank

Tier

Hull

 
 
 

Uni

BOffs

IR

Cost

Kamarag Battlecruiser Retrofit

40

5
35000
1.167
1
4
4
✓
3
4
2
3
✗
✗
10.5
0.15
30
1 Mission reward
Vor'cha Battlecruiser Retrofit

40

5
36000
1.2
1
4
4
✓
3
4
2
3
✗
✗
10
0.15
30
20,000  • 1
Negh'Var Heavy Battlecruiser

40

5
39000
1.3
1
4
4
✓
3
4
2
3
✗
✗
9
0.15
25
20,000  • 1
Bortas Heavy Battlecruiser

50

5
43500
1.45
1
4
4
✓
4
4
1
4
✗
✗
5.5
0.15
18
200,000
Bortasqu' War Cruiser

50

5
43500
1.45
1
4
4
✓
4
5
1
4
✗
5.5
0.15
18
2,500
Bortasqu' Command Cruiser

50

5
43500
1.45
1
4
4
✓
4
4
2
4
✗
5.5
0.15
18
2,500
Bortasqu' Tactical Cruiser

50

5
43500
1.45
1
4
4
✓
5
4
1
4
✗
5.5
0.15
18
2,500
Fleet K't'inga Battlecruiser Retrofit

50

5
34450
1.148
1.1
4
4
✓
3
4
3
3
✗
✗
11
0.15
35
20,000  • 4
K't'inga Battlecruiser Retrofit

50

5
31500
1.05
1
4
4
✓
3
4
2
3
✗
✗
11
0.15
35
200,000
Fleet Tor'Kaht Battlecruiser Retrofit

50

5
39600
1.32
1.1
4
4
✓
4
4
2
3
✗
✗
10
0.15
30
20,000  • 4
Fleet Negh'Var Heavy Battlecruiser

50

5
42900
1.43
1.1
4
4
✓
3
5
2
3
✗
✗
9
0.15
25
20,000  • 4
Fleet K'maj Battlecruiser Retrofit

50

5
38500
1.283
1.1
4
4
✓
3
4
3
3
✗
✗
10.5
0.15
30
20,000  • 4
Fleet Mogh Battlecruiser (T5)

50

5
41250
1.375
1.1
5
3
✓
4
4
2
3
✗
✗
9
0.15
50
20,000  • 4
Mogh Battlecruiser

50

5
37500
1.25
1
5
3
✓
4
4
1
3
✗
9
0.15
50
2,500
Mirror Vor'cha Battlecruiser

40

5
36000
1.2
1
4
4
✓
3
4
2
3
✗
✗
10
0.15
Mirror Universe Negh'Var Heavy Battlecruiser

40

5
39000
1.3
1
4
4
✓
3
3
3
3
✗
✗
9
0.15
25
Admiralty ship
[
]
Admiralty Ship
32
42
16
+10 SCI per SciShip
Notes
[
]
Links
[
]