Fire Emblem Warriors: Three Hopes - The Loop
Play Sound

Montgomery Scott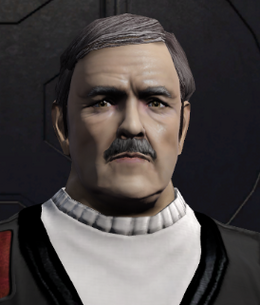 Montgomery Scott was a Starfleet Engineer who rose to fame as Chief Engineer of the U.S.S. Enterprise.
History
[
]
Montgomery Scott was born in 2222 on Earth. He joined Starfleet in 2241 and worked on eleven Starships until his retirement in the early 2290s.
In 2265 Scott spent his shore leave on Drozana Station. There he became trapped in the Devidian plot to invade the Neutral Zone. Together with an unknown individual he saved the station from being flooded with triolic waves.
Later that year Scott was assigned to his most famous position aboard the original U.S.S. Enterprise. He took part in that ship's famous five year mission under Captain James T. Kirk. After this time he was responsible for the ship's refit. After the destruction of the Enterprise in 2285, he assumed the post of chief engineer aboard the U.S.S. Enterprise-A.
In 2293, after the Enterprise-A was retired from service, Scott was an honored guest on the maiden voyage of the Enterprise-B. One year later he disappeared together with the U.S.S. Jenolan.
Scott's fate was not discovered until 2369, when the crew of the Enterprise-D found him in the transporter buffer of the U.S.S. Jenolan which had crashed on a Dyson sphere. He was rescued and left the ship aboard a shuttle.
Missions involved
[
]
Missions mentioned
[
]
Notes
[
]
Scott was the second main character of The Original Series to visually appear in Star Trek Online, and the third overall. He was also one of the first characters who was modeled to resemble their actor's likeness.
Similar to Leonard McCoy and unlike many other major characters, Scotty was not voiced in his original in-game appearances. With the release of Agents Of Yesterday in 2016, Scott is voiced by Christopher Doohan, son of the original Scotty actor

James Doohan

.
While he is not mentioned in "Past Imperfect" it is possible that Scott is aboard the Enterprise at the time.
During the Delta Recruitment Event it was revealed that the player (a Delta Recruit) gives Scott the idea to store himself in a transporter buffer in case of an emergency, in order to ensure that he survives to the 24th century.
Scott might be deceased by 2409 as the U.S.S. Montgomery Scott is named in his honor.
Scott's iconic engineering vest is one of several late 23rd-century outfits available in the Dilithium Store.
External Links
[
]
---