Fire Emblem Warriors: Three Hopes - The Loop
Play Sound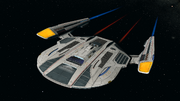 Multi-Mission Cruisers, abbreviated "MMC", are sub-type of Cruiser. Similar to their Multi-Mission Science Vessel counterparts, these cruisers are science-leaning and also have a hangar bay capable of launching hangar pets, and possess the ability to equip Dual Cannons.
Multi-Mission Cruisers typically have 4 device slots and also have access to two cruiser commands, as opposed to the four available to conventional cruisers, and the three available to conventional battle cruisers:
This altered mastery package differentiates the Multi-Mission Cruiser from the similar Command Battlecruiser line of vessels.
Overview
[
]
To see which rank and profession of Bridge Officers you can have hover your mouse over the icons in the Bridge Officer column of the table. The values in the shield column show the capacity of the shield that ship has equipped as standard. See the shields guide for more details.
Ship

Rank

Tier

Hull

 
 
 

Uni

BOffs

IR

Cost

Clarke Multi-Mission Command Cruiser

1

6
43125
1.25
1.1
4
4
✓
3
4
3
4
1
9.5
0.16
35
3,000
Fleet Malachowski Multi-Mission Command Cruiser

1

6
47438
1.375
1.21
4
4
✓
3
4
4
4
1
✗
9.5
0.16
35
20,000  • 5
Legendary Miranda Multi-Mission Cruiser

1

6
47438
1.375
1.21
5
3
✓
3
4
4
4
1
10.5
0.17
45
12,000
Starfleet Multi-Mission Cruisers
[
]
Tier 6
[
]
Starfleet has a longstanding tradition of coming to the aid of other starships in need, regardless of their allegiance. In light of this established standard operating procedure, it is no surprise that the brightest engineers among its ranks have chosen to focus the design of one of their newer ship classes specifically on the role of providing support and aid to other vessels in need. The Clarke-class was purpose-built to serve as the vanguard of reinforcement fleets, bringing with it a wide array of potential life-saving technology in the form of its Command Specialist capabilities. Additionally, despite only being a mid-sized cruiser, this vessel boasts a hangar bay able to house a wing of support vessels of any configuration its captain sees fit to equip.

The Fleet Malachowski-class has been updated with the latest technology from your fleet's shipyard. It has slightly improved stats over its Clarke counterpart, but does not come with a starship trait or special equipment.

The well-known "work horse" of the Federation fleet, the Miranda-class, has received an era-appropriate treatment. Like other Legendary Starships, this vessel is meant to represent the pinnacle of an entire line of vessels. It will include – in a single starship – all of the Consoles, Starship Traits, and Costumes, from the entire line of both Miranda and Malachowski families of starships.

Notes
[
]