Timeline Change Imminent!

---

This article contains information that no longer applies to the current version of Star Trek Online. It is provided only for historical purposes.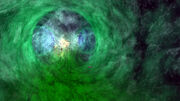 The NGC 1218 Anomaly is an artificial wormhole created by the Hirogen with the Hirogen Wormhole Generator. It serves as a trap for starships, which are sucked into the anomaly involuntarily.
NPC ships
[
]
Hirogen
[
]
Others
[
]
Missions Involved
[
]
See also
[
]
Map
[
]