Na'kuhl Fighter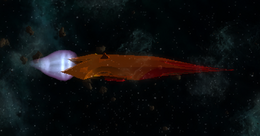 The Na'kuhl Fighter is a Fighter design employed by the Na'kuhl during the Temporal Cold War.
Missions involved
[
]
"The Temporal Front": Player witnesses the evacuation of N.V. Destiny few seconds before its self-destruct. Vosk and other important members of the Na'kuhl insurgency use fighters of this type to rendezvous with the Triumphant Path before entering the temporal portal.
Notes
[
]
Na'kuhl Fighters can only be seen in a cutscene after the player leaves N.V. Destiny. Because of that, their armament and abilities remain unknown.