Raise a Floppa - The Loop
Play Sound

Natasha Yar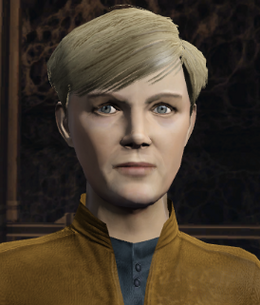 Military Rank:
Lieutenant
Profession(s):
Tactical & Security Officer
Death year:
2364; early-25th century (alternate timeline)
Natasha Yar (or Tasha Yar) was the Human tactical and security officer of the U.S.S. Enterprise-D until her death in 2364.
Alternate timeline
[
]
In an alternate timeline Tasha Yar was tactical and security officer on the Enterprise-D until 2366, when she joined the crew of the time-traveling U.S.S. Enterprise-C before it returned to the year 2344 - before the alternate timeline was created. In the subsequent Battle of Narendra III, the ship was destroyed and Tasha was taken prisoner by the Romulans. She became the consort of a Romulan General and one year later gave birth to a daughter: Sela. In 2349, Tasha attempted to escape from Romulus, but four-year-old Sela cried out, causing her mother to be caught and executed.
Missions involved
[
]
"Temporal Ambassador": Rather than returning to 2344 as planned, Yar and the Enterprise-C emerged in 2409 of the same alternate timeline and were captured by the Tholian Assembly in the Azure Nebula. The player must assist Tasha Yar and the crew of the Enterprise to return to their proper time and fulfill their destiny.
"Survivor": The player, accompanied by Daniels and Sela, find out that the alternate version of Tasha was not killed by Sela's father as originally believed, but incarcerated on a Tal Shiar penal colony in the Pictae System where she lived out her final days. After Sela surrenders to the player, she asks Data to tell her about her mother.
Notes
[
]
Gallery
[
]
Denise Crosby recording lines for Star Trek Online at Cryptic Studios in 2012.
External links
[
]
---