Fire Emblem Warriors: Three Hopes - The Loop
Play Sound

Nausicaans
Notable Species:
Nausicaan
Political System:
Limited
Foreign Policy:
Mercenary
Nausicaans are a humanoid species native to their home world of Nausicaa. In Star Trek Online they are both a playable race of the Klingon Empire and an NPC Faction.
Physical appearance
[
]
Nausicaans are typically very tall, normally above two meters and possess excellent physical strength. Their faces are very distinct, their foreheads featuring a prominent bone structure and sharp tusks protrude from both sides of their mouths.
Culture
[
]
Due to their strength and violent nature Nausicaans are often mercenaries or hired muscle for other races, e.g. Ferengi. They were hired by the Gorn Hegemony to help against the ongoing conflict with the Klingon Empire. When the Gorn were absorbed into the Klingon Empire in 2404, the Nausicaans followed suit. They are also notorious pirates and often prey upon freighters and civilian transports.
In the 25th century, there are also Nausicaan Augments. One of those is Goshi the Augmented who claims to have more "guramba" than anyone else. Small spikes on the forehead are an indicator of genetic augmentation.
History
[
]
Politics
[
]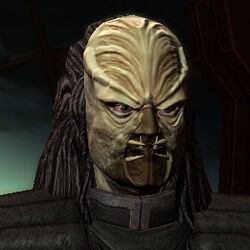 The Nausicaans are now affiliated with the Klingon Empire. Among those, a considerable number have chosen to join the Klingon Defense Force.
Traits
[
]
Species trait: Nausicaans are known for their aggression and bad tempers, and are often derided as pirates. Their physical prowess allows them to excel in hand-to-hand combat, while their penchant for violence informs their battle tactics in space, making them extremely alert and damaging foes.

On Ground:

0.15 bonus to Melee damage
15% chance to knock down the target of your melee attacks.

In Space:

+0.02 bonus to all damage.
+10 Perception of stealthed enemies

Available
Military
[
]
↑

Should be a Dreadnought or a Battleship, but appears as a cruiser class right now (enemy mob).
Size charts
[
]
NPCs
[
]
Duty officers
[
]
Gallery
[
]
See also
[
]
External links
[
]
---