Fire Emblem Warriors: Three Hopes - The Loop
Play Sound

Nausicaan Guramba Siege Destroyer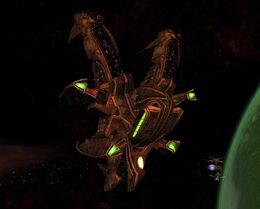 Requires an
Upgrade Token
Hull:

| | |
| --- | --- |
| Tier 5: | 31500 |
| Lvl 50 T5U: | 36225 |
| Lvl 55 T5U: | 39113 |
| Lvl 60 T5U: | 42000 |
| Lvl 65 T5U: | 47250 |
Matter-Antimatter

This article is about the T5
playable starship
. For the improved T6 version, see
Nausicaan Kolasi Siege Destroyer
. For the
NPC
vessel, see
Guramba Siege Destroyer (Mob)
.
The Nausicaan Guramba-class Siege Destroyer is a Tier 5 (Level 50) Destroyer which may be flown by Klingon Defense Force characters, including Klingon Empire-aligned Romulan Republic and Dominion characters. All faction restrictions of this starship can be removed by having a level 65 KDF character or by purchasing the Cross Faction Flying unlock from the Zen Store.
Players can obtain this starship from the Zen Store for 2,500

 under the name Garumba[sic] Siege Destroyer.
Overview
[
]
The Guramba is of Nausicaan design, borrowing design elements from vessels such as the Talon-class Battleship.
Class variants
[
]
| Class | Information |
| --- | --- |
| Guramba class | A Nausicaan warship conscripted for use by the Klingon Defense Force, the Guramba embodies the Nausicaan ideals of strength and power. The Guramba is capable of entering Siege Mode; a battle configuration designed to destroy enemies quickly and enables use of the Javelin, a devastating high-powered disruptor lance. |
Performance
[
]
Like most Destroyer-class vessels, the Guramba is more offensively-oriented than other vessels. It possesses impressive mobility, allowing it to out-maneuver comparable vessels such as the slower Qin Heavy Raptor. This offensive potency comes at the expense of survivability; due to its low base hull and shield statistics, the Guramba is potentially less resilient than Escorts or Raptors.
The Guramba gains a great advantage in its Siege Mode, which sacrifices speed and turn rate for extra weapon and shield power. This Mode can be used to boost the Guramba's resilience in combat; in addition, it can be used to counter the power drain from firing all the Guramba's considerable weaponry at once.
Entering Siege Mode adds a minor power drain to the Gurambas weapons; this drain is used to slowly charge the Gurambas primary weapon, the Disruptor Javelin. The Javelin, when charged, is capable of firing a single-shot Disruptor lance, a high-powered weapon that inflicts massive damage upon its target.
Starship Mastery
[
]
Starship Mastery
DESTROYER
Level
Name
Description
I
Precise Weapon Systems
+5 Accuracy Rating.
II
Enhanced Weapon Banks
+15% Critical Severity.
III
Devastating Weaponry
+2.5% Critical Chance.
IV
Enhanced Weapon Systems
+10% Kinetic Damage.
+10% All Energy Damage.
Abilities
[
]
The Nausicaan Guramba Siege Destroyer lacks a cloaking device, but instead has other integrated abilities.
Standard configuration
[
]
Klingon starships come with standard equipment and weapons of the lowest mark available at the ship's minimum rank. The items provided are appropriate to the type of vessel and its related playing style.
T5-X upgrade
By using an [Experimental Ship Upgrade Token], the Nausicaan Guramba-class Siege Destroyer may be upgraded to T5-X, unlocking an extra ship device slot, universal console slot, and the ability to slot an extra starship trait.
Ship comparison
[
]
Following table compares the Guramba with other Tier 5 KDF Destroyers.
Ship

Rank

Tier

Hull

 
 
 

Uni

BOffs

IR

Cost

Peghqu' Heavy Destroyer

40

5
34500
1.15
0.833
4
3
✓
4
3
2
3
✗
14
0.22
1,000
Fleet Peghqu' Heavy Destroyer

50

5
37950
1.265
0.92
4
3
✓
4
4
2
3
✗
✗
14
0.22
20,000  • 1  • 1,000
Nausicaan Guramba Siege Destroyer

50

5
31500
1.05
0.9
4
3
✓
4
3
2
2
✗
✗
15
0.2
70
2,500
Nausicaan Scourge Destroyer Retrofit

50

5
28500
0.95
0.9
4
3
✓
4
3
2
2
✗
✗
17
0.2
70
200,000
Fleet Nausicaan Scourge Destroyer Retrofit

50

5
31350
1.045
0.99
4
3
✓
4
3
3
2
✗
✗
17
0.2
70
20,000  • 4
Krenn Temporal Destroyer

40

5
33000
1.1
1.05
4
3
✓
4
2
4
2
✗
15
0.2
Admiralty ship
[
]
Admiralty Ship
27
45
18
+8 ENG and SCI per TacShip
Gallery
[
]