Nelen Exil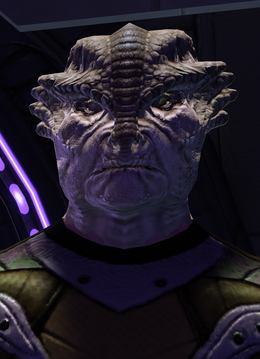 Profession(s):
Mission contact
Nelen Exil is a Voth scientist associated with the Circle of Archeology in 2409.
In that year, he discreetly contacts Dyson Joint Command during the siege of the Solanae Dyson Sphere, hoping to enlist aid in discovering the true origin of the sphere rather than follow the propaganda fed to him by the Ministry of Elders. After the mission Unsaid Thanks, he defects and joins the player's crew as a science officer.
Traits
[
]
Abilities
[
]
Space
[
]
Ground
[
]
Items
[
]
Missions Involved
[
]
Other Involvement
[
]
"A Step Between Stars" (Mentioned): While briefing the player, Subcommander Kaol mentions Nelen's defection and the information he brought with him regarding the Sphere's jump capability and use of Omega Particles.
Notes
[
]
Nelen Exil's appearance differs significantly between the cutscene missions he appears in, and how he looks when he finally joins the player's crew as a bridge officer; he has a different style to his head shape and his skin changes color. Although there is no explanation for the differing head shape, the latter is most likely an effect of the Voth having skin pigmentation which alters according to moods.
See also
[
]