Raise a Floppa - The Loop
Play Sound

Nihydron Destroyer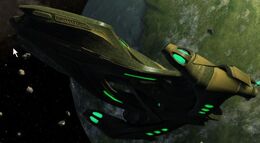 Requires an
Upgrade Token
Hull:

| | |
| --- | --- |
| Tier 5: | 31500 |
| Lvl 40 T5U: | 31500 |
| Lvl 45 T5U: | 34125 |
| Lvl 50 T5U: | 36225 |
| Lvl 55 T5U: | 39113 |
| Lvl 60 T5U: | 42000 |
| Lvl 65 T5U: | 47250 |
Matter-Antimatter
The Nihydron Destroyer is a Tier 5 (Level 40) Destroyer which may be flown by characters of any faction.
Players can obtain this starship as a ultra rare drop from the [Infinity Lock Box]; it comes in an [Infinity Prize Pack - T5 Ship] choice package, which is bound to you until a ship is chosen. It can also drop from the older [Year of Hell Lock Box]. The boxed ship is not bound and so may be traded to other players or bought and sold on the Exchange for energy credits under the name [Special Requisition Pack - Nihydron Destroyer].
Overview
[
]
Recently, contact was made with a Krenim colony which had been temporally phased to escape the wrath of the Vaadwaur. These survivors and their allies in the Zahl and the Nihydron have formed a new Coalition to withstand the dangers they face, and have together promised their aid to the Alliance of Federation, Klingon and Romulan representatives attempting to end the Iconian threat. The Krenim Coalition will use time itself as a weapon against their enemies.
The Nihydron Destroyer incorporates the Coalition's many shared technical advances into a front-line strike vessel built primarily for maneuverability and offense.
Starship Mastery
[
]
Starship Mastery
DESTROYER
Level
Name
Description
I
Precise Weapon Systems
+5 Accuracy Rating.
II
Enhanced Weapon Banks
+15% Critical Severity.
III
Devastating Weaponry
+2.5% Critical Chance.
IV
Enhanced Weapon Systems
+10% Kinetic Damage.
+10% All Energy Damage.
Abilities
[
]
Universal consoles
[
]
The Nihydron Destroyer can equip consoles from the Coalition Timeline Manipulation Set, which includes [Console - Universal - Timeline Analysis Sensor Grid] (Krenim Imperium Warship) and [Console - Universal - Temporal Shielding Matrix] (Zahl Heavy Cruiser). If both consoles are equipped, an additional passive bonus will be unlocked.
Experimental Weapon
[
]
The Nihydron Destroyer comes with an Experimental Weapon slot. This additional slot does not fit standard weapons. Unlike standard starship weapons, Experimental weapons are not affected by weapon firing modes, such as those granted by bridge officer abilities.
Standard configuration
[
]
Starships come with standard equipment and weapons of the lowest mark available at the ship's minimum rank. The items provided are appropriate to the type of vessel and its related playing style.
T5-X upgrade
By using an [Experimental Ship Upgrade Token], the Nihydron Destroyer may be upgraded to T5-X, unlocking an extra ship device slot, universal console slot, and the ability to slot an extra starship trait.
Ship comparison
[
]
The following table compares T5 cross-faction Destroyers.
Ship

Rank

Tier

Hull

 
 
 

Uni

BOffs

IR

Cost

Tal Shiar Llaihr Adapted Destroyer

40

5
39000
1.3
1.1
4
3
✓
4
3
3
3
✗
11
0.18
30
Nihydron Destroyer

40

5
31500
1.05
0.9
4
3
✓
4
3
2
3
✗
✗
15
0.2
70
Sphere Builder Arehbes Destroyer

40

5
28500
0.95
0.95
4
3
✓
4
1
4
2
✗
✗
16.5
0.2
65
Admiralty ship
[
]
Admiralty Ship
21
47
15
2.5x Critical Rating from TAC
Gallery
[
]
External links
[
]