GTA: The Criminal Enterprises - The Loop
Play Sound
Nog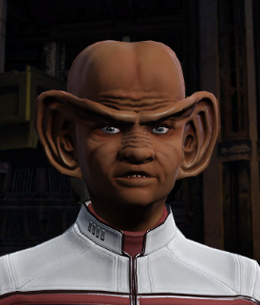 Profession(s):
Information giver
Captain Nog is a Ferengi Starfleet officer commanding the U.S.S. Chimera. He is also the son of Rom, current Grand Nagus of the Ferengi Alliance.
History
[
]
Nog was raised by his father, Rom, aboard Deep Space 9. As a boy, he worked in his Uncle Quark's bar. He later became the first Ferengi to join Starfleet, and returned to the station to serve as a Cadet, and later an Ensign.
Nog was involved in several battles during the Dominion War, including the Siege of AR-558, Operation Return, and the Battle of Cardassia. He was wounded in action on AR-558, losing a leg during the fighting there. By the end of the war in late 2375, his service had earned him a promotion to Lieutenant Junior Grade which was delivered by Captain Benjamin Sisko in one of the Captain's last official acts as commanding officer of DS9.
When Geordi La Forge left the U.S.S. Enterprise-E to command the U.S.S. Challenger in 2397, Nog became the new Chief Engineer of the Enterprise. He was seen as an example to many Ferengi, and the 2396 class at Starfleet Academy included four Ferengi cadets.
By 2409, Nog has been promoted to Captain and given command of the U.S.S. Chimera.
Legacy
[
]
In the 32nd century, the Eisenberg-class U.S.S. Nog will be named in the captain's honor.
Missions given
[
]
Missions involved
[
]
Missions mentioned
[
]
"A Day Long Remembered": With allies gathered and preparing for the final battle of Qo'noS, Martok laughs heartily as he reminisces a time when a young Ferengi Starfleet cadet told three Klingons, himself included, to move. Reinforcing that courage comes in all sizes as the boy had more courage than ten nuchpu's surrounding J'mpok.
Other involvement
[
]
"Tales of the War #12": Captain Nog is working at a facility in the Kyana System. There, he must manage internal disputes among the joint team of Iconian Resistance and Krenim engineers to build

Annorax's

time ship and weapon. The team members, including Seven of Nine, A'dranna, and a Krenim named Noye, are not working well together under the immense pressures and time constraints of their project.
"New Episode "Butterfly"": Nog records a personal log revealing his fear of the Iconians, and of the Krenim weapon he has helped build.
"Of Hawks and Doves": Administrator Kuumaarke meets with Captains Nog and Tom Paris discuss the Lukari ship-building program, which Starfleet is providing assistance with. The specifications provided by the Lukari Planetary Council are contradictory, with some emphasizing weaponry and durability, and others focusing on sensor and long-range capabilities. After some discussion of the merits of each approach, they agree to try to find a middle path between the two sets of specifications.
Notes
[
]
Nog is voiced by Aron Eisenberg, the same actor who played him in

Star Trek: Deep Space Nine

.
In Q's Winter Wonderland, a consumable called [

Nog's Nog

] can be purchased from Neelix. The item description reads "A special brew created by Nog during his first year at Starfleet Academy. Some people think it tastes a little like root beer... if root beer had snails in it.".
High level players could find Nog in the shipyard on DS9 near the ship selection terminal; he disappeared after players completed "Home", however.

Following the deaths of René Auberjonois and Aron Eisenberg, both Odo and Nog were moved to be permanently visible, talking in Quark's Bar.

At the end of the mission "Home", Nog can be seen in Quark's bar wearing his 24th-century Starfleet uniform with Lt. JG rank insignia (as seen in the final episode of DS9) instead of his 25th-century Captain's uniform.
Nog is one of several canon characters the player assumes direct control over in "Quark's Lucky Seven". During the mission he uses an older [

High Density Beam Rifle Type 3 (24c.)

] instead of a current-issue [

Phaser High Density Beam Rifle

]. He also can employ the ability Reroute Power to Shields III.
Gallery
[
]
External links
[
]
---
---