Oberth Light Science Vessel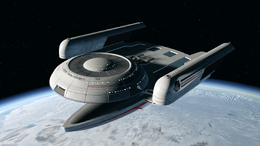 Matter-Antimatter
Oberth-class
 ~Science Vessel Variants
The Oberth-class Light Science Vessel is a Tier 1 (Level 1) Science Vessel which may be flown by Starfleet characters, including Federation-aligned Romulan Republic and Dominion characters. The faction restrictions of this starship can be removed by having a level 65 KDF character or by purchasing the Cross Faction Flying unlock from the Zen Store.
Players can obtain this starship from any Ship and Shuttle Requisitions officer for 15,000

. This ship was previously available on its own from the Zen Store; players that purchased it from there can still reclaim it from there on all their characters.
Class variants
Abilities
[
]
Universal console
[
]
The Light Science Vessel comes equipped with the [Console - Universal - Enhanced Plasma Manifold]. This universal console may be placed in any console slot and when activated provides a short-duration increase to auxiliary, engine, and shield power levels, as well as repairing disabled auxiliary, engine, and shield subsystems.
Sensor Analysis
[
]
Sensor Analysis is an active toggle ability. While maintaining a Sensor Lock on a target, the player gains a stacking effect that either improves the damage and power drain against an enemy, or improves any heal directed towards an ally. This effect stacks every 3 seconds, to a maximum of 6 stacks after 18 continuous seconds. To maintain the desired effect, the player must hold the sensor lock.
Subsystem Targeting
[
]
The Oberth-class Light Science Vessel comes with built-in Subsystem Targeting abilities. These built-in abilities stay at Rank I and do not automatically rank up when acquiring higher tier Science starships. They are separate from Subsystem Targeting abilities gained through Tactical Space Bridge officer abilities.
Activating a subsystem targeting ability will upgrade all energy weapons to inflict a stacking power drain on the foe's targeted subsystem for the next 10 seconds. They will also have a small chance to knock the targeted subsystem offline for a short duration.
Standard configuration
[
]
Federation starships come with standard equipment and weapons of the lowest mark available at the ship's minimum rank. The items provided are appropriate to the type of vessel and its related playing style.
Ship comparison
[
]
The following table compares Tier 1 Federation starships that are not Small Craft.
Ship

Rank

Tier

Hull

 
 
 

Uni

BOffs

IR

Cost

Utility Cruiser

1

1
10000
1
1
2
1
✓
1
1
1
2
✗
✗
11.4
0.2
50
1,000
Light Escort

1

1
10000
1
1
2
1
✓
2
1
1
2
✗
14
0.17
50
15,000
Light Cruiser

1

1
10000
1
1
2
1
✓
1
1
1
2
✗
✗
11.4
0.2
50
1,000
Malachowski Light Cruiser

1

1
10000
1
1
2
1
✓
1
1
1
2
✗
✗
11
0.2
50
1,000
TOS Constitution Class Cruiser

1

1
12000
1.2
1
2
1
✗
1
2
1
2
✗
✗
11.4
0.2
45
15,000
Oberth Light Science Vessel

1

1
10000
1
1.2
2
1
✗
1
1
2
2
✗
13
0.15
50
15,000
Andorian Light Escort

1

1
10000
1
0.95
3
1
✓
1
1
1
2
✗
✗
14
0.17
70
Blockade Runner Escort

1

1
11000
1.1
1
2
1
✓
2
1
1
2
✗
16
0.21
50
2,500
Admiralty ship
[
]
Admiralty Ship
4
4
10
2.5x Critical Rating from SCI
Gallery
[
]
Notes
[
]
External links
[
]