Raise a Floppa - The Loop
Play Sound
Obisek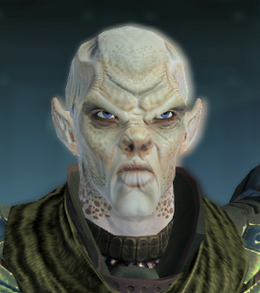 Military Rank:
Romulan Commander
Profession(s):
Guard Captain
Obisek is a Reman Guard Captain and the leader of the Reman Resistance in 2409. He, together with his Resistance, later joins D'Tan's Unificationists based on New Romulus, thereby forming and building the Romulan Republic.
Missions given
[
]
"Coliseum": Obisek asks the player to locate a Reman vessel that disappeared in the Nopada System. He apologises to the player for Slamek's betrayal at the end of the mission.
Missions involved
[
]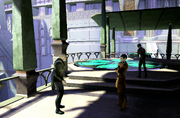 "The Measure of Morality (Part 1)": The player, Seven of Nine and Michael Burnham are sent to an altered simulacrum of The Battle of Brea III to fight alongside Obisek against Hakeev once more. However, when Hakeev is defeated, Burnham and the player try to convince Obisek not to kill him, thus giving Hakeev the opportunity to use a hidden disruptor pistol to mortally wound Obisek. The player must then decide whether to save Obisek's life or pursue Hakeev and stop him from summoning Iconian reinforcements.
Missions mentioned
[
]
Other involvement
[
]
"Season 7 Dev Blog #13": In a log, Captain James Wells of the U.S.S. Huxley summarizes his current mission: helping D'Tan's Romulans find a new homeworld. He says that Obisek has agreed to support D'Tan's movement.
"Season 7 Dev Blog #14": Obisek sends a message requesting assistance defending The Vault from the Tholians.
Gallery
[
]
Notes
[
]
Obisek's voice is provided by Eric Newsome. (Tweet on Cryptic_Kestrel's Twitter account)
Obisek's look was slightly redone in Season Nineteen: Legacy, such as changing his uniform colours to a darker green, shortening his drapery and extending the length of his boots reaching his thighs. His Republic uniform is also redone, with his purple scarf having an additional dark green colour and his drapery completely removed. The three large scars on the right side of his face have also been removed.
Obisek was written by Senior Content Designer Jesse Heinig who was originally intended to be a one-time mini-boss villain to fight at the beginning of "The Vault". Jesse decided against it as he thought it would be too boring and added a little depth, making his character more dialogue-heavy. (Ten Forward Weekly: 2021 Legendary Bundle Ships (February 24, 2021))