Fire Emblem Warriors: Three Hopes - The Loop
Play Sound

Odo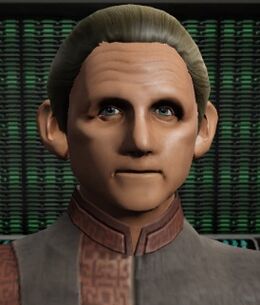 Profession(s):
Founder
Ambassador
Odo is a Changeling. Formerly the security chief aboard Deep Space 9, he currently resides with the Dominion Founders in the Gamma Quadrant. Loriss acts as his personal Vorta.
History
[
]
Missions given
[
]
Missions involved
[
]
Missions mentioned
[
]
"Operation Gamma": The player can ask Weyoun about Odo's whereabouts, to which Weyoun replies that he is with the Founders, and that the player need not know any more than that.
Other Involvement
[
]
"Introducing: The Swarm!": Ambassador Odo asks for assistance in rescuing civilians from a Hur'q attack on an unidentified planet.
"The Missing Link": Nuno, a Founder, returns home with his ship and crew from a five-year Dominion exploration mission. Before he can rejoin the Great Link, he learns that the Dominion is at war with the Hur'q. Accessing a console, Nuno realizes that while the Dominion has officially maintained that the war is going well, far fewer vessels are returning from their deployments than are sent out. He is met by the Female Changeling and Odo; the Female Changeling tells him that the members of the Link are not to be "troubled" with the details of the war. Agreeing to keep the secret, Nuno decides not to rejoin the Link. Privately, Odo asks Nuno to tell him everything he has learned about the state of the war.
Notes
[
]
Gallery
[
]
External links
[
]
---
---