Odyssey Dreadnought Cruiser
For the playable counterpart, see Odyssey Star Cruiser.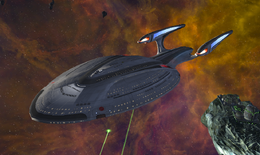 Odyssey-class
 ~Star Cruiser Variants
Related
Odyssey Dreadnought Cruiser
The Odyssey-class Dreadnought Cruiser is Starfleet's newest, largest, and most advanced dreadnought. The Federation flagship, the U.S.S. Enterprise-F, is an Odyssey-class vessel.
| Level | Standard Difficulty | Advanced Difficulty | Elite Difficulty |
| --- | --- | --- | --- |
| 50 | 310,133 | - | - |
"Fluid Dynamics": A dreadnought of varying class is part of a combined Starfleet/KDF fleet assembled in the Kuda System.
A dreadnought can be seen stationed near the spire occupied by the Dyson Joint Command in the Allied zone of the Solanae Dyson Sphere. Additional dreadnoughts of varying classes can be seen patrolling in the Contested Zone.
Odyssey-class Dreadnoughts have a very small chance of appearing when a Starfleet player uses the "Fleet Support" ability.