Fire Emblem Warriors: Three Hopes - The Loop
Play Sound

Odyssey Science Cruiser

Requires an
Upgrade Token
Hull:

| | |
| --- | --- |
| Tier 5: | 42000 |
| Lvl 50 T5U: | 48300 |
| Lvl 55 T5U: | 52150 |
| Lvl 60 T5U: | 56000 |
| Lvl 65 T5U: | 63000 |
Matter-Antimatter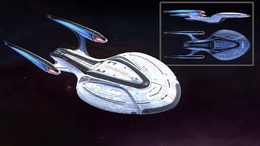 Odyssey-class
 ~Star Cruiser Variants

This article is about the T5
playable starship
. For other uses, see
Odyssey class
.
The Odyssey-class Science Cruiser is a Tier 5 (Level 50) Cruiser which may be flown by Starfleet characters, including Federation-aligned Romulan Republic and Dominion characters. All faction restrictions of this starship can be removed by having a level 65 KDF character or by purchasing the Cross Faction Flying unlock from the Zen Store.
Players can obtain this starship from the Zen Store for 2,500

. This ship can be purchased individually, or as part of the Odyssey Bundle [T5] for 5,000

.
Overview
[
]
The Odyssey-class Science Cruiser is a variant of the Odyssey-class Star Cruiser, intended to enhance extended operation during multi-purpose missions. The EPS systems have been balanced to provide equal power generation across all primary systems. Redundant power generation systems and improved warp field design also marks the return of saucer separation to Starfleet cruisers after an extended absence.
Class variants
Class
Information


Odyssey class
Aquarius refit

Aft

SKIN UNLOCK: Free

---

The first in a new generation of Federation starships, this refit of the Odyssey class adds an Aquarius-class Light Escort to the aft hull structure, a feature that would carry forward to subsequent classes based on this design. The U.S.S. Enterprise is the most famous ship of this class.


Sojourner class

Aft

SKIN UNLOCK: Sojourner Operations Star Cruiser, 3,000
OR Legendary Verity Command Dreadnought Cruiser, 30,000

---

With its oval saucer section and bulky warp nacelles, the Sojourner class is reminiscent of the famous Galaxy-class cruiser. However, it still bears all the key characteristics of the Odyssey class on which its design is based. The ship has a larger internal volume than any of the other Federations Flagships, giving it vast cargo and passenger space combined with the durability and combat performance of its sister ships.


Yorktown class

Aft

SKIN UNLOCK: Yorktown Science Star Cruiser, 3,000
OR Legendary Verity Command Dreadnought Cruiser, 30,000

---

Of all the Federation Star Cruisers, the Yorktown class most closely resembles the Odyssey class. It shares the same sleek lines and split saucer pylons of its predecessor, but features larger impulse engines and warp nacelles. The nacelles, with their unique fin design, help the Yorktown maximise efficiency when travelling both at normal warp and in slipstream.


Endeavour class

Aft

SKIN UNLOCK: Endeavour Tactical Star Cruiser, 3,000
OR Legendary Verity Command Dreadnought Cruiser, 30,000

---

The Endeavour class features a more angular design, with a triangular saucer section closer to those of the Advanced Escorts and Presidio-class battlecruiser than the other Flagships. Unlike on its sister ships, the impulse engines on the Endeavour's saucer section are designed to be operational even when the saucer section is docked to the primary hull, slightly improving its speed and manoeuvrability. However, it features the split saucer pylons and large hangar bay found on all Federation Flagships of its generation.


Verity class

Aft

SKIN UNLOCK: Legendary Verity Command Dreadnought Cruiser, 30,000

---

The Verity Class Dreadnought Cruiser, named after the U.S.S. Verity seen in the Picard Countdown comic, the design of the Verity is more directly inspired by Adam Ihle's original contest submission to the Design the Enterprise fan contest that ultimately led to the Star Trek Online's Odyssey class.
Starship Mastery
[
]
Starship Mastery
CRUISER
Level
Name
Description
I
Absorptive Hull Plating
+25 Physical Damage Resistance Rating.
+25 Kinetic Damage Resistance Rating.
II
Rapid Repairs
Regenerates 1.25% of your maximum hull every 3 seconds in Space. Twice the amount is regenerated out of combat.
III
Enhanced Hull Plating
+25 All Energy Damage Resistance Rating.
+25 Radiation Damage Resistance Rating.
IV
Armored Hull
+10% Hull Hitpoints.
Abilities
[
]
Universal console
[
]
The Deploy Work Bees ability creates 4 Work Bee CMUs (Cargo Management Units) that repair the player's or ally's ship and take away certain debuffs while the target is less than 75% HP. This ability is available when the included console is equipped. This console is part of the Odyssey Cruiser Set.
Advanced Quantum Slipstream Drive
[
]
The Advanced Quantum Slipstream Drive ability allows the Odyssey class starship to travel at increased warp speed for 60 seconds instead of the normal 30 seconds in sector space.
Sensor Analysis
[
]
Sensor Analysis is an active toggle ability. While maintaining a Sensor Lock on a target, the player gains a stacking effect that either improves the damage and power drain against an enemy, or improves any heal directed towards an ally. This effect stacks every 3 seconds, to a maximum of 6 stacks after 18 continuous seconds. To maintain the desired effect, the player must hold the sensor lock.
Cruiser commands
The Odyssey-class Science Cruiser supports the following cruiser commands:

Standard configuration
[
]
Federation starships come with standard equipment and weapons of the lowest mark available at the ship's minimum rank. The items provided are appropriate to the type of vessel and its related playing style.
T5-X upgrade
By using an [Experimental Ship Upgrade Token], the Odyssey-class Science Cruiser may be upgraded to T5-X, unlocking an extra ship device slot, universal console slot, and the ability to slot an extra starship trait.
Ship comparison
[
]
The following table compares T5 Federation Cruisers.
Ship

Rank

Tier

Hull

 
 
 

Uni

BOffs

IR

Cost

Assault Cruiser

40

5
39000
1.3
1
4
4
✗
3
4
2
4
✗
✗
7
0.15
30
20,000  • 1
Ranger Temporal Battlecruiser

40

5
36000
1.2
1.05
4
4
✓
3
4
2
3
✗
10
0.15
55
2,000
Mirror Heavy Cruiser Retrofit

40

5
36000
1.2
1
4
4
✗
3
3
3
4
✗
✗
8
0.15
30
Mirror Assault Cruiser

40

5
39000
1.3
1
4
4
✗
3
4
2
4
✗
✗
7
0.15
30
Support Cruiser Retrofit

40

5
39500
1.317
1
4
4
✗
3
4
2
4
✗
✗
7
0.15
40
Mirror Star Cruiser

40

5
39000
1.3
1
4
4
✗
2
4
3
4
✗
✗
7
0.15
30
Advanced Heavy Cruiser Retrofit

40

5
39000
1.3
1
4
4
✗
3
4
2
4
✗
✗
8
0.15
40
2,000
Star Cruiser

40

5
39000
1.3
1
4
4
✗
2
4
3
4
✗
✗
7
0.15
30
20,000  • 1
Assault Cruiser Refit

50

5
39000
1.3
1
4
4
✗
3
4
2
4
✗
7
0.15
30
2,500
Odyssey Star Cruiser

50

5
42000
1.4
1.15
4
4
✗
2
4
3
4
✗
✗
6
0.15
20
200,000
Odyssey Tactical Cruiser

50

5
42000
1.4
1.15
4
4
✗
3
4
3
4
✗
6
0.15
20
2,500
Avenger Battlecruiser

50

5
37500
1.25
1
5
3
✓
4
4
1
3
✗
9
0.15
50
2,500
Fleet Avenger Battlecruiser

50

5
41250
1.375
1.1
5
3
✓
4
4
2
3
✗
✗
9
0.15
50
20,000  • 4
Fleet Star Cruiser

50

5
42900
1.43
1.1
4
4
✗
2
4
4
4
✗
✗
7
0.15
30
20,000  • 4
Fleet Support Cruiser Retrofit

50

5
43450
1.448
1.1
4
4
✗
3
4
3
4
✗
✗
7
0.15
40
20,000  • 4
Fleet Advanced Heavy Cruiser Retrofit

50

5
42900
1.43
1.1
4
4
✗
4
4
2
4
✗
✗
8
0.15
40
20,000  • 5
Exploration Cruiser Retrofit

50

5
40000
1.333
1
4
4
✗
2
4
3
4
✗
6
0.15
25
2,000  • 1
Fleet Exploration Cruiser Retrofit

50

5
44000
1.467
1.1
4
4
✗
2
5
3
4
✗
✗
6
0.15
25
20,000  • 4
Fleet Heavy Cruiser Retrofit

50

5
39600
1.32
1.1
4
4
✗
3
4
3
4
✗
✗
8
0.15
30
20,000  • 4
Fleet Assault Cruiser Refit

50

5
42900
1.43
1.1
4
4
✗
4
4
2
4
✗
✗
7
0.15
30
20,000  • 4
Odyssey Operations Cruiser

50

5
42000
1.4
1.15
4
4
✗
2
5
3
4
✗
6
0.15
20
2,500
Heavy Cruiser Retrofit

50

5
36000
1.2
1
4
4
✗
2
4
3
4
✗
✗
8
0.15
30
200,000
Odyssey Science Cruiser

50

5
42000
1.4
1.15
4
4
✗
2
4
4
4
✗
6
0.15
20
2,500
Admiralty ship
[
]
Admiralty Ship
54
20
24
+35 SCI when Alone
Gallery
[
]
External links
[
]