Fire Emblem Warriors: Three Hopes - The Loop
Play Sound

Odyssey Star Cruiser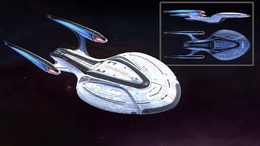 Matter-Antimatter
Odyssey-class
 ~Star Cruiser Variants

This article is about the T5
playable starship
. For other uses, see
Odyssey class
.
The Odyssey-class Star Cruiser is a Tier 5 (Level 50) Cruiser which may be flown by Starfleet characters, including Federation-aligned Romulan Republic and Dominion characters. All faction restrictions of this starship can be removed by having a level 65 KDF character or by purchasing the Cross Faction Flying unlock from the Zen Store.
Players can obtain this starship from any Ship and Shuttle Requisitions officer for 200,000

, so long as the player's Fleet has a Tier V Starbase Shipyard and one Starbase Military Fleet Ship Provision.
Overview
[
]
The Odyssey-class Star Cruiser has been touted as the pinnacle of Federation starship design that will carry the Federation into a new generation of exploration. The newly commissioned U.S.S. Enterprise (NCC-1701-F) is an example of this class and stands as the flagship of Starfleet.
Class variants
Class
Information


Odyssey class
Original configuration

Aft

SKIN UNLOCK: Exclusive to this starship

---

The original Odyssey class introduced split saucer pylons with the aim of reducing subspace wake at higher warp speeds. The Odyssey is designed as an extreme long-range vessel, and can operate for long periods of time away from support.
Abilities
[
]
The Advanced Quantum Slipstream Drive ability allows the Odyssey class starship to travel at Transwarp Factor 20 for 60 seconds instead of the normal 30 seconds in sector space.
Cruiser commands
The Odyssey-class Star Cruiser supports the following cruiser commands:

Standard configuration
[
]
Federation starships come with standard equipment and weapons of the lowest mark available at the ship's minimum rank. The items provided are appropriate to the type of vessel and its related playing style.
Ship comparison
[
]
The following table compares T5 Federation Cruisers.
Ship

Rank

Tier

Hull

 
 
 

Uni

BOffs

IR

Cost

Assault Cruiser

40

5
39000
1.3
1
4
4
✗
3
4
2
4
✗
✗
7
0.15
30
20,000  • 1
Ranger Temporal Battlecruiser

40

5
36000
1.2
1.05
4
4
✓
3
4
2
3
✗
10
0.15
55
2,000
Mirror Heavy Cruiser Retrofit

40

5
36000
1.2
1
4
4
✗
3
3
3
4
✗
✗
8
0.15
30
Mirror Assault Cruiser

40

5
39000
1.3
1
4
4
✗
3
4
2
4
✗
✗
7
0.15
30
Support Cruiser Retrofit

40

5
39500
1.317
1
4
4
✗
3
4
2
4
✗
✗
7
0.15
40
Mirror Star Cruiser

40

5
39000
1.3
1
4
4
✗
2
4
3
4
✗
✗
7
0.15
30
Advanced Heavy Cruiser Retrofit

40

5
39000
1.3
1
4
4
✗
3
4
2
4
✗
✗
8
0.15
40
2,000
Star Cruiser

40

5
39000
1.3
1
4
4
✗
2
4
3
4
✗
✗
7
0.15
30
20,000  • 1
Assault Cruiser Refit

50

5
39000
1.3
1
4
4
✗
3
4
2
4
✗
7
0.15
30
2,500
Odyssey Star Cruiser

50

5
42000
1.4
1.15
4
4
✗
2
4
3
4
✗
✗
6
0.15
20
200,000
Odyssey Tactical Cruiser

50

5
42000
1.4
1.15
4
4
✗
3
4
3
4
✗
6
0.15
20
2,500
Avenger Battlecruiser

50

5
37500
1.25
1
5
3
✓
4
4
1
3
✗
9
0.15
50
2,500
Fleet Avenger Battlecruiser

50

5
41250
1.375
1.1
5
3
✓
4
4
2
3
✗
✗
9
0.15
50
20,000  • 4
Fleet Star Cruiser

50

5
42900
1.43
1.1
4
4
✗
2
4
4
4
✗
✗
7
0.15
30
20,000  • 4
Fleet Support Cruiser Retrofit

50

5
43450
1.448
1.1
4
4
✗
3
4
3
4
✗
✗
7
0.15
40
20,000  • 4
Fleet Advanced Heavy Cruiser Retrofit

50

5
42900
1.43
1.1
4
4
✗
4
4
2
4
✗
✗
8
0.15
40
20,000  • 5
Exploration Cruiser Retrofit

50

5
40000
1.333
1
4
4
✗
2
4
3
4
✗
6
0.15
25
2,000  • 1
Fleet Exploration Cruiser Retrofit

50

5
44000
1.467
1.1
4
4
✗
2
5
3
4
✗
✗
6
0.15
25
20,000  • 4
Fleet Heavy Cruiser Retrofit

50

5
39600
1.32
1.1
4
4
✗
3
4
3
4
✗
✗
8
0.15
30
20,000  • 4
Fleet Assault Cruiser Refit

50

5
42900
1.43
1.1
4
4
✗
4
4
2
4
✗
✗
7
0.15
30
20,000  • 4
Odyssey Operations Cruiser

50

5
42000
1.4
1.15
4
4
✗
2
5
3
4
✗
6
0.15
20
2,500
Heavy Cruiser Retrofit

50

5
36000
1.2
1
4
4
✗
2
4
3
4
✗
✗
8
0.15
30
200,000
Odyssey Science Cruiser

50

5
42000
1.4
1.15
4
4
✗
2
4
4
4
✗
6
0.15
20
2,500
Admiralty ship
[
]
Admiralty Ship

46
13
16
-5% Maintenance per Ship
Gallery
[
]
Official Images[1][2]

[

]
Screenshots
[
]
Notes
[
]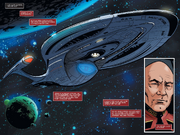 External links
[
]