Orithian Creeper
Orithian Creeper worms are non-arthropod invertebrate animals found in the jungle of Orith II.
Creepers are native to Orith II, living beneath the surface of the moon's lush forest. Other creatures frequenting the jungle are Saurs and Orithian Saber Cats.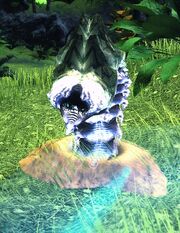 The worms usually live underground. Parts of their body only emerge in order to prey. Once they emerge the worms seem unable to change their location and remain in one spot.
They attack both with their mouth and with acid venom they can expel.
Orithian Creeper
---