Pag
Pag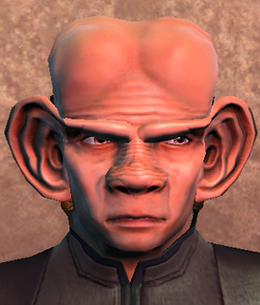 Profession(s):
Personal Weapons Vendor
Prisoner
Pag is a Ferengi male civilian located on Deep Space 9.
Before the launch of the redesigned Promenade in Victory is Life, Pag was a common weapons vendor. He sold common ground weapons in every Mk version up to X.
With the Promenade redesign in Victory is Life, Pag has been replaced by Zazrit.
However, Pag still exists in the game, having apparently been arrested by Chief Ro, he is now found in Deep Space Nine's brig. He is also still a vendor during the events of "Second Wave" as that mission uses the depreciated version of Deep Space Nine's Promenade.
Pag purchases items for 30% value as opposed to the standard vendor 50% rate.
While Pag has been removed as a vendor as of Victory is Life, he can be found in DS9's brig. He is also still present on the legacy version of the map seen in "Second Wave", still acting in his old role as a vendor.
---