Fire Emblem Warriors: Three Hopes - The Loop
Play Sound

Perseus Temporal Escort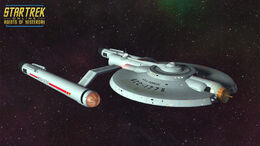 Matter-Antimatter
The Perseus-class Temporal Escort is a Tier 3 (Level 20) Escort which may be flown by Starfleet characters, including Federation-aligned Romulan Republic and Dominion characters. All faction restrictions of this starship can be removed by having a level 65 KDF character or by purchasing the Cross Faction Flying unlock from the Zen Store.
Players can obtain this starship from any Ship and Shuttle Requisitions officer for 75,000

 under the name Temporal Escort - Perseus Class. This ship can be purchased individually, or as part of the Temporal Special Agent Pack for 15,000

. This ship was previously available on its own from the Zen Store; players that purchased it from there can still reclaim it from there on all their characters.
Class variants
Class
Information

---

Purchasing the Temporal Special Agent Pack for 15,000 unlocks all existing ship variants.

---

Perseus class

SKIN UNLOCK: Free with this starship

---

A versatile escort from the 23rd century, the Perseus-class Temporal Escort incorporated several state-of-the-art systems for the time, including the M6 Computer. Designed to provide rapid tactical analysis of the battlefield, the M6 had none of the troublesome drawbacks of its infamous predecessor.

Theseus class

SKIN UNLOCK: Theseus Temporal Escort, 3,000

---

A futuristic take on the Perseus-class of the 23rd century, the Theseus-class escort utilizes an advanced science suite along with tactical systems. These powerful instruments augment the temporal weaponry found aboard the vessel, making its stout offense even stronger in battle.
Abilities
[
]
Universal console
[
]
The Perseus-Class Temporal Battlecruiser comes equipped with the M6 Computer universal console.
Molecular Reconstruction
Temporal Starships are capable of making subtle alterations on the molecular level through the use of Molecular Reconstruction. This technology allows the starship to assume 1 of 3 different Configurations: Offensive, Defensive and Support.
(+Max Engine Power, +Turn, +Flight Speed, -Incoming Hull Healing)
(+Max Shield Power, +Incoming Hull Healing, -Turn, -Flight Speed)
(+Max Auxiliary Power, +Exotic Damage, +Control Strength, -Energy Weapon Damage)
Each of the configurations generates its own specific counter, which is then used to fuel the Molecular Deconstruction Beam.
(Scaling Physical DoT, Heals Hull, Disable)
Standard configuration
[
]
Starships come with standard equipment and weapons of the lowest mark available at the ship's minimum rank. The items provided are appropriate to the type of vessel and its related playing style.
Ship comparison
[
]
The following table compares Tier 3 Federation starships.
Ship

Rank

Tier

Hull

 
 
 

Uni

BOffs

IR

Cost

Advanced Research Vessel

20

3
21000
1.05
1.3
3
2
✗
1
2
3
3
✗
9
0.15
40
75,000
Heavy Escort Refit

20

3
20000
1
0.9
3
2
✓
3
2
1
2
✗
15
0.2
60
75,000
Heavy Escort

20

3
20000
1
0.9
3
2
✓
3
1
1
2
✗
✗
15
0.2
60
5,000  • 1
Heavy Cruiser

20

3
26000
1.3
1
3
3
✗
1
3
1
4
✗
✗
8
0.15
30
5,000  • 1
Advanced Heavy Cruiser

20

3
26000
1.3
1
3
3
✗
2
3
1
4
✗
8
0.15
30
75,000
Research Science Vessel

20

3
18000
0.9
1.3
3
2
✗
1
1
3
3
✗
✗
13
0.15
40
5,000  • 1
Heavy Cruiser Refit

20

3
26000
1.3
1
3
3
✗
1
3
2
4
✗
8
0.15
30
75,000
Perseus Temporal Escort

20

3
18000
0.9
0.95
3
2
✓
3
1
2
2
✗
16
0.2
70
75,000
Admiralty ship
[
]
Admiralty Ship
9
30
15
Ignores +/- TAC from Events
External links
[
]