Pet Targ
Targ Pup
Rare Inventory
Bind On Pickup
Values do not reflect skills or other modifiers
Summon Targ Pup
Value: 0

A Pet Targ is a cosmetic pet for Klingon characters only, that a player can summon and dismiss at will. This is a non-combat pet.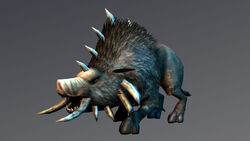 Pet Targs could be obtained as a BestBuy Collector's Edition, HMV, and MicroMania preorder retail exclusive of Star Trek Online, from the Zen Store for 300

, or as a random reward during the One Year Anniversary Event. It can be claimed via the "Special Unlocks" tab of the Zen Store.
---