GTA: The Criminal Enterprises - The Loop
Play Sound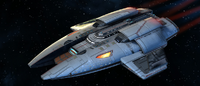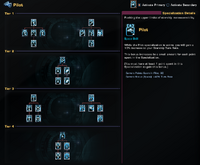 Pushing the upper limits of starship maneuverability.
---
The Pilot Specialization is a Captain Specialization released with Delta Rising as a Secondary Specialization. It was expanded into a full Primary Specialization later, with the release of Season 10. Players trained in this specialization can improve the Turn Rate, Flight Speed and Defense of their starships.
Pilot
Space Skill

While the Pilot specialization is active, you will gain a 10% increase to your Starship Turn Rate.
This bonus increases by a small amount for each point spent in the Specialization.
(You must have at least 1 point spent in this Specialization to gain this bonus.)
Scaling bonus:
+10% base +1% turn rate per point spent (maximum of 40%)
Tiers Overview
[
]
Pilot Officers
[
]
Any Tactical, Engineering or Science Bridge Officer can be trained in Pilot specialization by using the [Specialization Qualification - Pilot]. Said item is unlocked for crafting in the Officer Training R&D School once 10 points have been spent in Pilot Specialization, or may be purchased from the Exchange.
Common Pilot Specialist Bridge Officers can also be purchased from Bridge Officer Requisition Officer for a modest dilithium fee.
Bridge Officer Abilities
[
]
Space is the only playground of a Pilot. These officers focus their efforts exclusively on combat maneuverability in zero-gravity environments.
Space Abilities
[
]


Attack Pattern Lambda
All of your outgoing weapon fire will confuse enemy targeting sensors. This results in reduced Accuracy and Perception for foes hit with weapon fire, as well as a chance to Confuse them into being unable to tell friend from foe for a short time. While active, you also benefit from an increase to your own Accuracy and Perception.


Clean Getaway
Get out while you can! Initiate a sensor burst that will give you a small window to flee from an ongoing firefight, while briefly increasing your own flight speed to help make good on your escape.


Coolant Ignition
Eject a trail of impulse engine coolant in your wake, which will ignite after several seconds. Although more effective at both slowing and damaging ships than standard Warp Plasma trails, Coolant trails are unable to do both simultaneously.


Deploy Countermeasures
Release a swarm of target-masking probes that will instantly detonate any nearby torpedoes. Your ship will become temporarily immune to smaller projectiles that might slip through the probe swarm. Enemy small craft may also become Confused.


Fly Her Apart
Activating this toggle will give your ship a speed that gradually increases the longer it is maintained, but will degrade your hull each second that passes. When the toggle ends, or is deactivated, you gain a damage buff that scales up with the amount of time the toggle was maintained.


Form Up
Instantly jump into a formation position with the targeted ally. Both you and the targeted ally will receive a damage bonus as long as you remain within a short distance of one another for the duration of the ability.


Hold Together
Regenerate your hull over time, while also removing hazardous debuffs from your vessel. This effect is increased by high speeds, so remaining at full Throttle grants a much larger effectiveness.


Lock Trajectory
Expert control over thrust vectors allows you to send your starship into a controlled skid, maintaining its current trajectory and speed, but allowing it to turn freely.


Pilot Team
Enhance the speed and turn rate of yourself or one ally within 10km. While used on the target, it also grants a short-term immunity to all movement-impairing effects.


Reinforcements Squadron
Call in a squadron of small craft to aid you, or the targeted ally, in their current combat. These nimble allies will assist who ever they are designated to at the time of activation, and will continue engaging enemies in the area for up to 45 seconds, or until shortly after combat ends.


Energy Weapons: Reroute Reserves to Weapons
By shunting the impulse manifolds into your weapons arrays, the drain usually associated with energy weapon activation can pull from your Engine Subsystem instead of Weapons. While this effect is in place, the firing cycles of all active energy weapons will cycle more quickly.


Subspace Boom
Initiate a sudden and violent warp burst that sends out shockwaves in subspace. These distortions will deal minor damage to foes that scales up with your Throttle value at the time of activation. The area remains hazardous to travel for several seconds, inflicting defense and movement debuffs on any enemies caught in the region.
Pilot Starships
[
]
The following playable starships can be classified as Pilot Starships:
Pilot Maneuvers
[
]
All Pilot starships are capable of performing four special Pilot Maneuvers: Afterburners, Left and Right Barrel Roll, and Retrorockets.
Much like how players are able to perform active dodging/rolls on ground, these starships can perform these maneuvers by double tapping in the direction they'd like to perform a special maneuver. These maneuvers can be rebound to different keys, or activated manually from a UI element if the player so desires. After activating a Pilot Maneuver player will be briefly immune to damage.
Hybrid Seating
[
]
All Pilot Starships feature a Commander Pilot Bridge Officer seat. Some of these ships feature an additional, lower ranking Pilot BOff seating.
Other playable ships with Pilot BOff seat
[
]
A large number of playable Tier 6 starships come with either an Ensign, Lieutenant or Lieutenant Commander Pilot BOff seating. However, these ships lack the built-in Pilot Maneuvers, and are thus not considered to be Pilot Starships.