Pioneer Class Frigate
For the playable version, see Utility Cruiser.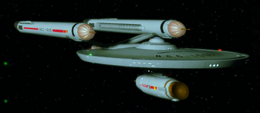 Despite being the smallest vessel in the fleet, the Pioneer-class Frigate is able to hold its ground against the largest and most threatening enemy vessels, including the D9 Battleship. Designed for utility, vessels of this class often undertake missions normally assigned to larger vessels. However, the extent of these missions is often limited by their size and small crew complements.
| Level | Normal Difficulty | Advanced Difficulty | Elite Difficulty |
| --- | --- | --- | --- |
| 60 | 134 218 | 295 280 | 1 052 943 |