Raise a Floppa - The Loop
Play Sound

Priors System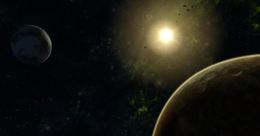 The Priors System is a Federation system near the Klingon border. The system is subject to frequent ion storms.
Description
[
]
Priors World
is a class-M world close to the heart of
Federation
space in the
Beta Quadrant
. In the
23rd century
, it was subject to frequent attacks by
Klingons
due to its position close to the
Empire
's border. The Priors system, which holds several planets, suffers occasional ion storms due to the star's instability.
Missions involved
[
]
"Operation Riposte": Starfleet conducts an operation to retake the planet from Klingon forces occupying the system.
"The Plausibility of the Possible": Following the successful liberation of the Priors World, the player returns to the system to aid the U.S.S. Buran against renewed assault.
"Impossibility of Reason": Following the mission to deliver a Klingon prisoner to a secret Federation facility, the player returns to the system to assist the Buran. The help arrives too late and the Buran is destroyed with all the crew lost, aside from Captain Lorca who is severely wounded. The player agrees to take Lorca to a medical facility, but a Klingon Raider damages the shuttle forcing them to land on Priors 5d, leaving the crew stranded on a cold, hostile rock.
Links
[
]