Fire Emblem Warriors: Three Hopes - The Loop
Play Sound
Quad Cannons have the smallest firing arc of any other weapon (except for Dual Cannons and Dual Heavy Cannons, on which the quad cannons are based) — 45° — but have a larger damage potential than most other starship weapons.
Quad Cannons, Dual Cannons, Dual Beam Banks, Cannons, and Dual Heavy Cannons cannot be mounted in aft (rear facing) weapon slots. Only one of any type of Quad Cannons can be equipped on a ship at a time.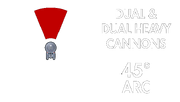 Damage types
[
]
Quad cannons are only available in phaser, disruptor, plasma, and polaron damage types, which are listed below. Each type of Quad Cannons offers a different proc (random chance for an attack bonus). The damage done by these weapons are modified by several skills from the skill tables and certain Tactical Consoles. The baseline damage is dependent on the array's Mark level and its rarity.
For more information on the base damage done by Quad Cannons weapons, see the respective weapon type articles.
Performance
[
]
Quad cannons are only available with [Dmg]x3 modifiers.
Dmg: +3% final damage multiplier
Consoles enhancing damage
[
]
Consoles enhancing accuracy
[
]
Consoles enhancing CrtH/CrtD
[
]
Base Damage Table
[
]
Quad Cannons are level-less and so do not have a mark number. Instead the quad cannons scale with the player meaning their damage output is proportional to the player's current level.
Rank
Level

DPV

DPS

Commander
20
162
216
23
167
223
24
169
225
Captain
30
??
??
31
181
242
32
183
244
33
185
246
34
187
249
35
188
251
36
190
253
37
192
256
38
194
258
39
195
261
Rear Admiral
40
197
263
41
199
265
42
201
268
43
203
270
44
204
272
45
206
275
46
208
277
47
210
280
48
211
282
Vice Admiral
50
214
287