Regalian Fleaspider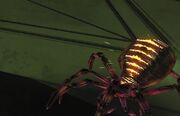 The Regalian Fleaspider is a venomous arachnid species native to Regalian space.
Nothing is known about this species' natural environment. So far fleaspiders have been encountered on a single research station only.
Regalian Fleaspiders are large arachnids with dark-magenta colored bodies. At least in their Modified form (genetically manipulated by Dr. Sibak they look exactly like Talarian Hook Spiders.
They react aggressively towards incursion into their territory, as do many other large spiders.
Modified Regalian Fleaspider
---