Fire Emblem Warriors: Three Hopes - The Loop
Play Sound
Reman Resistance
Political System:
Rebel group

A Reman Scout ship
The Reman Resistance is a movement of the Remans to liberate their people from Romulan rule. The Resistance is led by Captain Obisek, and operates out of The Vault in the Haakona System. They later joined D'Tan's Unificationists based on New Romulus, thereby forming and building the Romulan Republic.
History
[
]
Main article: History of the Romulan and Reman peoples
In early 2409, Crateris and other Reman-inhabited colonies, e.g., Delta Corvi, are attacked and destroyed by the Tal Shiar and their Elachi allies. Many Remans are able to flee and band together under Guard Captain Obisek to establish a resistance base on Dera IV. After the base is attacked and destroyed by the Tal Shiar, Obisek and his followers claim the Vault in the Haakona System in order to start a full-on resistance movement against Empress Sela's Romulan Star Empire and the Tal Shiar in particular.
Following the defeat of the head of the Tal Shiar, Hakeev, as well as the disappearance of Empress Sela, the Remans join D'Tan's Unificationists on New Romulus to build a new Romulan Republic together.
As of early 2410, Obisek and his Reman Resistance continue to support the establishment of New Romulus as a capital for the Romulan Republic. Meanwhile they also have successfully defended the Vault against Tholian attackers and additionally claimed Vauthil Station for the Republic.
Missions involved
[
]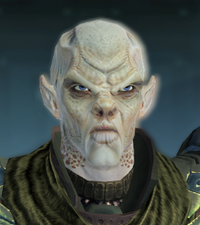 Military
[
]
---